Heavy Duty Cantilever Gate
| | |
| --- | --- |
| Notice | If you want to place an order, please contact the seller, and we will calculate the cheapest freight for you! |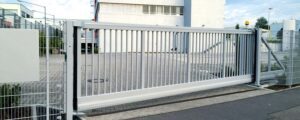 Heavy Duty Cantilever Gate are larger than the opening they are designed to close and are suspended and supported on rails on the side of the gate. They do not touch the ground and do not need support from below to open. They are suitable for driveways that are unpaved, uneven, or prone to snow.
Cantilever gates have been designed to withstand high flows of traffic and varying environmental conditions. A variety of sizes infill and finishes are available to suit individual site applications.
Specification:
| | |
| --- | --- |
| Brand  | MRTECH |
| Model No | MR-CSG95 |
| Product Name | Heavy Duty Cantilever Gate |
| Open Style | Sliding Gate |
| Material | Aluminum, Mild Steel, Stainless Steel. |
| Size | Various types of sizes Available Customer Requesting |
| Color | White, Black, Silver, and Costumer Requesting colors are Available |
| Surface Treatment  | Hot-Dip, Galvanized, Powder Coated |
| Drawing Design | According to Your request |
| Optional  products | Manual,  Semi-Automation, Automatic. |
| Application | Residential, Industrials, Commercial, etc. |
| | |
| --- | --- |
| Optional Accessories  | Photo Sensor, Flashing Light, Bluetooth Controller, Wi-fi Mobile Access with ( Voice Command Through Google Assistant, Alexa, Siri ), RFID, Vehicle LOOP Detectors, Face Recognition, Bluetooth USB Port. |

In our company, our Heavy Duty Cantilever Gate is manufactured using graduated steel material with a robust electric motor and advanced intelligent control system having better operation, functioning, and looks. Our gates are perfect sit to industries with high traffic or heavy vehicle areas as they are only supported at one end and are designed to operate without the need for a surface-mounted track across the driveway.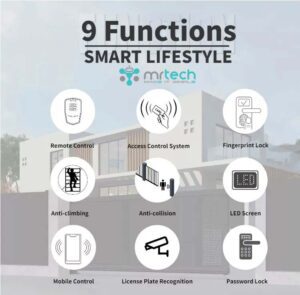 Advantages of Heavy Duty Cantilever Gate:
Due to the number of moving parts, sliding gates tend to be noisier than swinging ones. Although this may not be a problem in the situation of perimeter fencing, it may be a concern when considering internal gates or access points close to offices or sleeping quarters, or in residential areas.
The installation of floor tracks may not always be practical, and the floor tracks will require regular maintenance to keep them free of debris.