Laser Cutting Sliding Gate
Laser Cutting Sliding gates are used Widely for long last life and better precision design. The gate is the physical object that is moved to block the gate opening. Most gates used in commercial applications are made of either ornamental iron or chain-link material and are usually designed to match the fencing adjacent to where the gate is installed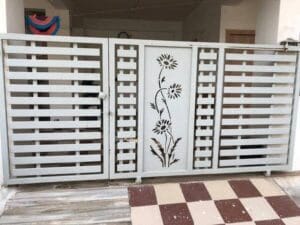 | | |
| --- | --- |
| Notice | If you want to place an order, please contact the seller, and we will calculate the cheapest freight for you! |
A technique used in Laser Cutting 
The precision levels and edge quality achieved with laser cutting machines are better than traditional cutting methods, as the laser beam will not wear during the laser cutting process. Laser cutting technology also enables us to cut complex shapes without the need for tooling and at a similar or faster speed than other cutting methods
Laser cutting also allows us to cut small diameter holes with complex detail and good edge quality in either sheet, plate, tube, or box sections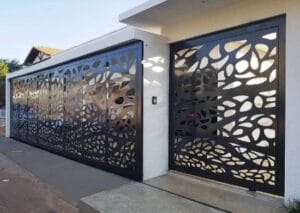 Featured Product:
| | |
| --- | --- |
| Item | Description |
| Material | Stainless Steel, Mild Steel, HPL Sheet, WPC Sheet, etc |
| Size  | Various types of size Available Customer Requesting |
| Color | White, Black, Silver, and Costumer Requesting colors are Available |
| Surface Treatment  |  Hot-Dip, Galvanized, Powder Coated |
| Open Style | Sliding gates |
| Optional open | Sliding-type, Swing Type, folding type, Bi-folding, Turning Sectional Sliding Gate |
| Key Words | Laser Cutting Sliding Gate |
| Drawing Design | According to Your request |
| Optional  products | Manual,  Semi-Automation, Automatic, Voice command System, Fingerprint RFID, Loop Detector & Mobile Access via Mac / Android App's |
| Application | House, Industrial, commercial place. |
Laser Cut Design Gates
Laser Cutting Sliding gate consist of two gate panels that are hinged together. When activated, these gate panels fold back onto themselves to allow access. Most commonly, bi-folding gates are used in pairs, with one pair being used on each side of the gate opening. Some models require a track along either the top or bottom of the gate.
What Should I Consider before opting for a Sliding gate?

The Space available for a gate to move through while opening ad closing plays a big part in the selection of swing gate or sliding gates
opening times and design preferences are important too, but space is the most significant limitation
Laser cutting sliding gate needs to slide along a continuous, straight track across the driveway opening between the pillars or posts until it has completely cleared the opening
This means that your property's perimeter wall or fence cannot angle onto the property within the distance required by a sliding  gate to clear the driveway entrance
the best ones will conduct a safety audit to identify the potential risks and propose procedures for the design and construction of the automatic gate system, as well as its usage, that eliminate as many of these as possible
Working Principle of Automatic Laser Design Sliding gates?

Sliding Gates move across a driveway opening into space to the side of one gate post that is both in line with the opening and longer than the gate itself
It is most often a single leaf, with wheels beneath its base that runs on a track across the driveway entrance.
Laser Cutting Sliding gates are moved by a motor to which a protruding toothed cog is attached.
This meshes with a rack mounted on the inside of the stainless steel gate, opening or closing the gate as the motor rotates the cog