Automatic DC Fence Boom Barrier Gate MR-BB6D
| | |
| --- | --- |
| Notice | If you want to place an order, please contact the seller, we will calculate the cheapest freight for you! |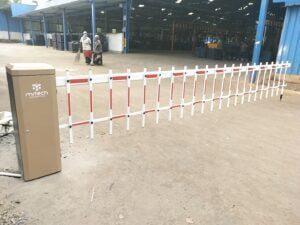 An Automatic DC Fence Boom Barrier Gate MR-BB6D is designed for a range of large opening up to 6m. It is ideal solution for controlling vehicle traffic in parking lots, private entrances, industrial and public uses.
Quality control is our top priority, so we vigorously test our boom barrier gate to make sure a longer life span. with our excellent craftmanship, nice welding, galvanized and powder coated surface finishing, quiet and smooth during operation, our boom barriers can bring perfect user experience.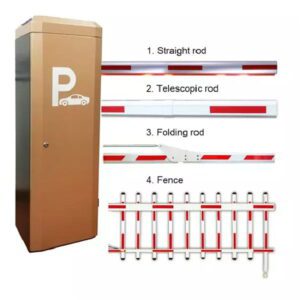 Specification:
| | |
| --- | --- |
| Brand  | MRTECH |
| Model No | MR-BB6D |
| Product Name | Automatic DC Fence Boom Barrier Gate |
| Voltage | DC24V |
| Current  | 6A |
| Output Efficiency | 120W |
| Humidity | 85% or Lower |
| Insulation Class | F |
| Gate Operation Time | 0.3∼5 Sec |
| Altitude | 1000Meters or lower |
| Operation Lifetime | ≥5 Million times |
| Temperature Range | -40ºC∼+60ºC ( temperatures below -20ºC require a heating element) |
| Length of the arm | 1∼6 Meters |
| Gross Weight | 47 Kg |
| MOQ | 3set |
| Application | Hospitals, Shopping mall, Traffic Hub, Industrial Park, Government Buildings, etc. |
| | |
| --- | --- |
| Accessories Included With Boom Barrier | Control Board, Tension Spring, Remote Control, Manual key, Mounting Kit, Expansion Screws. |
| Optional Accessories | Photo Sensor, Flashing Light, Bluetooth Controller, Wi-fi Mobile Access with ( Voice Command Through Google Assistant, Alexa, Siri ), RFID , Vehicle LOOP Detectors, Face Recognition, Bluetooth USB Port. |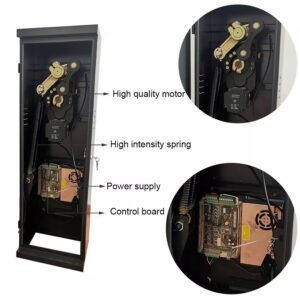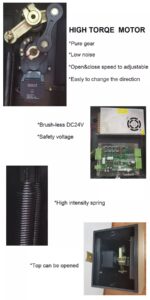 Performance of automatic dc fence boom barrier gate:
Fast and smooth opening and closing (speed is adjustable)
Reliable 24V DC motor with link movement.
Designed for intensive use
Auto reverse at any time if hits an obstruction.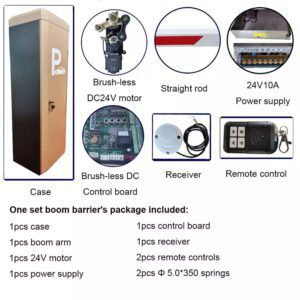 Revolution Of Automatic Boom Barrier Gate
Before:
Worm gear, general appearance
The previous products use with Rv50 reducer and added the splint to compose the movement. The worm gear is a consumable product. After using a long time, there will be a large gap, the pole will be not stable and shake so will cause the gear reducer to grind.
The products mainly used AC 220V motors, the fixed speed was not adjustable.
Open structure, a low degree of protection, easy to enter the water.
AC220V.
During installation, needs to adjust the magnet position to ensure the door opening angle. After a long time, the shaking will affect the limit position or the pole may be deviated downwards.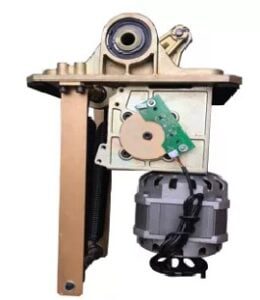 After:
Gear transmission structure, beautiful appearance, compact structure, strong overall sense.
The new products are tailor-made for this industry and the gear adopts the processing technology of worm grinding wheel grinding after heat treatment, fine rolling of hard alloy hob, etc., the accuracy grade ≥ GB / T100951, 2-2001 7 levels.
The new product uses with DC brushless motor to avoid the problem of carbon brush life. Adjustable speed.
The entire seal structure, a high degree of protection (≥IP55); have a rainproof capability.
DC24V(Safe voltage)
Installed the chassis, adjust the position automatically after powering on, and adjust the angle of the rising pole and falling pole at will.