MS Sliding Gate 35 with HPL sheet
Sliding Gate are very reliable and have long trouble-free lifespans. MS sliding gates with HPL sheet Occupy less Space as compared to swing gates. It maximizes space on the drive because the gate opens sideways rather than inwards. Preference for industrial, Commercial, and residential applications.
How Does an MS Sliding Gates work?
Tracked Sliding Gates run Along the Fixed track, upon which the majority of the gate's weight is carried on wheels. The track is installed along the opening, running at the base of the gate, and the gate itself typically features automated operation
Sliding Gate Application
They are more secure and provide wide openings the ideal choice for industrial, commercial, and residential applications.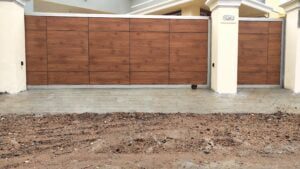 Customized Automated Gates designed and Fabrication in our Company. Electromechanically driven remote-controlled steel gates are hard and apt to be installed at any industrial, residential or commercial premises. The automatic gates safeguard long-term steadiness and exceptionally blends in with the style of buildings. Varied choice of models for gates weighing from 300Kg to 18000kg
Featured Product:
| | |
| --- | --- |
| Item | Description |
| Material | MS steel, Mild Steel, Stainless Steel, Iron. |
| Customized Design | HPL Sheet, WPC Panel, ACP Sheet, Laser Cutting Design, etc. |
| Size  | Various type size Available Customer Requesting |
| Color | White, Black, Silver, and Costumer Requesting color are Available |
| Surface Treatment  |  Hot-Dip, Galvanized, Powder Coated. |
| Open Style | Sliding gate |
| Optional open | Sliding-type, folding type, Bi-folding, Turning Sectional Sliding Gate, Cantilever Gate, Telescopic Gate, Retractable Gate. |
| Key Words | Main Iron Gate Designs |
| Drawing Design | According to Your request |
| Optional  products | Automation, manual,  Semi-Automation, Voice cement System, fingerprint system, |
| Application | House, Industrial, commercial place, Warehouses |
Hpl Sheet Colors Gate Design
HPL men High-Pressure Laminate Applications Solid color, Woodgrain, Marble(stone), Fancy, etc
Advantages of Automatic MS Sliding Gate
Planned and fabricated with superior square or rectangular hollow sections, along with MS sheets and flats collected by high-quality welding.
Manual operation in case of power failure.
Highly condensed dimensions & very silent operation. Built-in anti jerk device stops damage to the automatic system
Problem detection causes the gate movement to stop if a hindrance or person is detected
The advance electronic control unit licenses operation time adjustment, partial opening, reflex closing, step-by-step control, stop safety, reverse safety etc.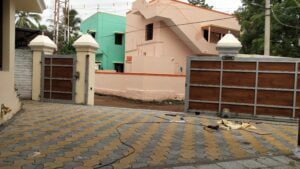 Variation of Track Sliding Gates
Track Sliding Gates: Gates made for light industrial applications where there is a wide entryway opening ( excess of 6 meters). They can be automated and also customized with various of infill, transparent or opaque relying upon site necessities. MS sliding gate offers better security than a Track Sliding Gates swing gate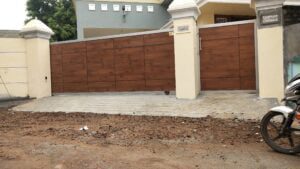 Optional Sliding Gate Motor
Brand Name
MRTECH
Motor Voltage
DC 24V/AC230 V/AC 110V
Working system
S4-25%
Running Time
10 min
Max. Gate Weight
1.5 TON
Functions
1. Soft Start and soft stop
2. Resistance Stop
3. Overload Protection
4. Infrared Protection
5. Reserve Power
6. Good self-hold performance
Limit Switch
Spring/Magnetic Limit Switch
Application
House, Office, Commercial
Dimension
270*155*315mm
Gate Moving Speed
14 m/min
Operating Temperature
-45ºc ∼ +65ºc
Optional Accessories
Alarm Lamp, Mounting Plate, Wireless Wall Button, etc
How to Concrete in the floor track?
Cut out and remove about a 150mm wide strip. Level the area with stone and compress. Lay the floor track in the trench and use the joining pins to join the lengths together. Level with a straight long edge and spirit level while aiming to keep the bubble of the level within the lines. On a loose substrate hammer small pins to either side of the track every 450mm. When it becomes tight weld it to the rack and cut off the excess. Lastly using Concrete, Backfill the top 13 ∼ 15 mm of the 20mm bar that's Showing.
Troubleshooting Sliding Gates:
Troubleshooting the Sliding Gates if lock hangs up and does not latch properly try the following steps before contacting technical support
Reset closed position limit so gate is snug against stop plate
Lubricate latch with silicone spray to help latch to operate freely