12 Channel Relay RF Remote Control Switch Transmitter Receiver
Module Wireless
1. Transmitter
Channel:12CH
Remote Control Distance:0-500m( Ideal Distance WITHOUT Any Block and Signal Interfere, Could Rise or Fall 10%-90% in Real Situation)
IC: SC/Pt/2260/2262/2264/ EV1527
Encode: 2260/2262/2264/ EV1527
Frequency:315 or 433.92
Size: 99mm x 78mm x 28mm
Power Supply: 1 X 12V/ or 24v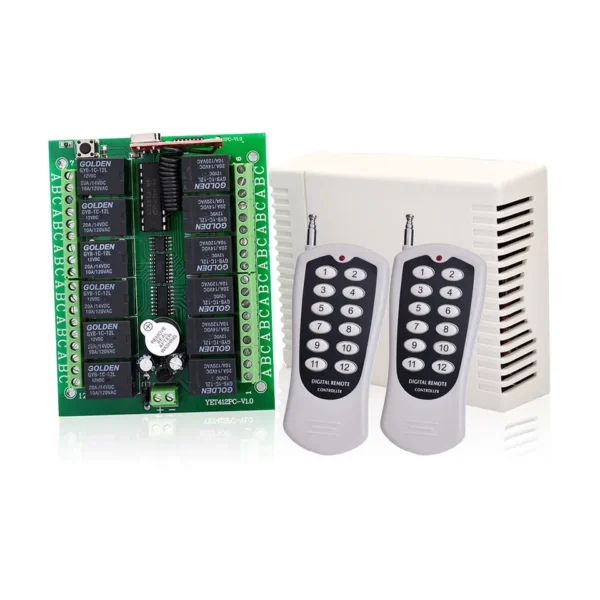 2. Receiver
1-12 Toggle/Self-Lock: Press->On; Press again->Off (Press key 1 to learn)
Press one button once the time is working/ON Press the same button again is stop/OFF. (press 1,1 relay works, press 1 again,1
relay stops working,2-12 works like this)
1-12 Latched/Inter-Lock: Press->On; Press other button->Off (Press key 3 to learn)
Press one button is working/ON, press another button is stop/OFF.(press 1,1 relay works, press 2,1 relay stops working,2 relay
works,3-12 works like this)
1-12 Momentary/Jog: Press and hold->On; Release->Off (Press key 2 to learn)
Keep pressing one button that is working /ON. loosen your finger is stop/OFF.(press 1 and hold,1 relay works,release key 1,1 relay
stops working,2-12 works like this)
1-6 Toggle 7-12 Momentary (Press key 4 to learn)
1 Toggle 2-12 Momentary (Press key 5 to learn)
(The original Setting is Toggle, Change it by yourself.)
Decode: Learning code, soldering code
Power Supply (Operating Voltage): DC12V | 24V
Current:10mA
Sensitivity:ge-110dBm
Operating Temperature:-40lsquoC ~ 80rsquoC
Size:164mmⅹ89mmⅹ18mm
Frequency:315 / 433 MHz
Product Name:
DC 12V 12CH Channel10A RF Wireless Remote Control Switch System Transmitter and Receiver/lamp/Garage Door/shutters/ window
Working Voltage:
Default: 12V | Optional: 24V
Rated Power
≤ 1000W
Operating Frequency:
Default: 433Mhz
Code Type:
Learning code
Maximum Working Current: 
10A
Modulation Mode:
ABS
RF Sensitivity:
-110dBm
Remote Distance:
1000 m ( in space place )
Install way
 Stiletto installation
Installation Size
100*46*16 mm
Operating Temp:
-40C~+60C
Battery Type:
23 A  12V
Application Scenarios:
Universal | Electronic Door | Auto Doors | Garage door | Rolling Door | Road Barrier | Motor

Product Highlights

1. Wireless control, easy to install.
2.  One/several transmitters can control one/several receivers simultaneously.
3. The wireless receiving controller, with high confidentiality, stable performance, low power consumption characteristic, jump line
or dial the code switch coding.