Wifi To RF Bluetooth Remote Control 300-868Mhz
Frequency:240~930MHz
Input voltage: DC5V
Standby power: <1W
Encryption type: WEP/TKIP/AES
Security mechanism: WAP/WAP2
Working environment: Temperature:-10℃~﹢70℃ ; Humidity:5%~93%
Size:6.75*5.4*1.95cm
Support mobile phone system: Android5.0 or IOS10.1 and above is a WiFi to remote RF signal converter. Support fixed code and learning code, and most brands' remote controls support a variety of remote control frequency bands of SUB-1G (240MHZ~930MHZ). This product makes it possible for the mobile terminal to remotely control the remote control device.
This product is a WIFI controller. It connects to the Internet through wireless WIFI signals and uses the mobile phone APP to achieve various remote controls.
This product can quickly learn the remote controls of traditional RF control devices, such as the remote controls of curtains, lights, doors, or security devices, and wirelessly control the relevant RF devices by transmitting the same RF signal.
Finally, realize Wifi To RF Bluetooth Remote Control 300-868Mhz through the mobile phone APP anytime and anywhere. Traditional RF remote controls have a limited range of control. This product can replace RF remote controls through signal conversion to transform traditional RF remote control devices into smart devices that can be remotely controlled via mobile phones and the Internet.
Specification:
| | |
| --- | --- |
| ITEM | DESCRIPTION |
| Products Name |  RF Converter WIFI- Remote |
| Model No |  MR-WFRF5050 |
| Operation Frequency |  300-925 MHz optional |
| Operating Voltage |  5V DC |
| Transmission Distance |  100 – 150 M |
| Color  |  White |
| Static Working Current |  ≤12MA |
| Memory capacity |  2.4G RF Wireless Technology |
| Facilities | Waterproof, LED indicator light, Automatic, Wifi Control |
| Usage | Auto Doors, Car Alarms, Security Protection |
Wider Control Range
To control the RF device with Wi-Fi to RF Bluetooth Remote Control, you have to stay indoors.
MR-WFRF5050 RF converter helps to switch the signal, allowing you to control the RF devices from anywhere at any time.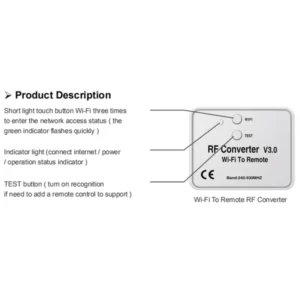 Using method
Use the power cord of this product to connect to the USB female DC5V power plug, and place the product vertically or horizontally on the surface of non-metallic objects. When the electric buzzer is installed and a beep is heard, the power supply is normal, and the power indicator (red indicator) is always on. At this time, the device starts normally and you can perform the next step.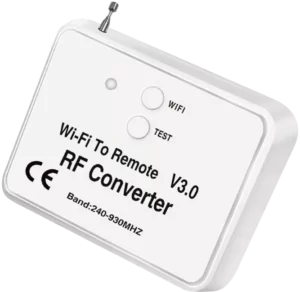 The device supports multiple brands of remote controllers and generates remote controllers directly through the APP brand selection list. Unknown brands can identify and add brand remote controllers through custom methods. (Support brand detailed reference list)
The device supports copying universal fixed code and learning code to generate a remote controller.
Remote control long distance: support multi-frequency(240MHZ~930MHZ), RF remote control signal is stable and long distance.
Support one-button identification: support one-button identification, whether the customer's remote control frequency and code type products support.
Remote control: The mobile terminal can remotely control the remote control device to have a more convenient experience.
Support one-click connection network: Simple access to the network, easy to operate.
Remote management is simple: a single converter device can match multiple controllers of different brands, and the APP can delete and rename different brands of remote controllers.
Support for power-off memory function: After the converter and controller learn for one time, the converter does not need to relearn the remote control (that is, the converter and controller pairing code only need to be done once)