MRTECH Factory WiFi to RF Converter Multi Frequency 240-930mhz for automatic door MR-WFRF5050-V3.0
Product Introduction:
1) This product is rf converter 240-930mhz. It connects to the Internet through wireless WIFI signals and uses the mobile phone APP to achieve various remote controls.
This product can quickly learn the remote controls of traditional RF control devices, such as the remote controls of curtains, lights, doors or security devices, and wirelessly control the relevant RF devices by transmitting the same RF signal. Finally, realize remote control through the mobile phone APP anytime and anywhere.
Traditional RF remote controls have a limited range of control. This product WiFi to RF Converter Multi Frequency can replace RF remote controls through signal conversion to transform traditional RF remote control devices into smart devices which can be remotely controlled via mobile phones and the Internet.

2) MR-WFRF5050 is a WiFi-to-remote RF signal converter. Support fixed code, learning code and most brands remote control, support a variety of remote control WiFi to RF Converter Multi Frequency bands of SUB-1G (300~348MHZ, 387~464MHZ, 779~928MHZ). This product makes it possible for the mobile terminal to remotely control the remote control device.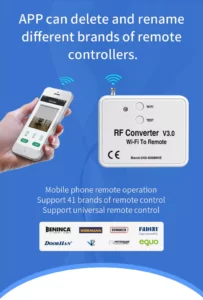 Features:
Multi Auto-San frequency 240MHZ~930MHZ.
Strong European Brand compatibility Support fixed code/learning code(such as the remote control chip models PT2260, PT2262, PT2264, EV1527, etc.) and most brands rolling code remote control
Remote Testing Press the test button and then the remote control button to test whether your device can work or not ( all within 30s)
Quick Learning After adding RF converter to IOS/Android Add, you can be learning 240-930MHz RF remote control to the MR-WFRF5050 RF converter on App quickly.
Wider Control Range To control the RF device with RF remote control, it allows you to control the RF devices from anywhere at any time.
Easy Management
Specification:
| | |
| --- | --- |
|  ITEM |  DESCRIPTION |
|  Operating Voltage |  DC5V |
|  Standby Power |  <1W |
|  Working Frequency |  300-348MHz, 387-464MHz, 779-   928MHz |
|  RF Remote Control Power |  10dbm |
|  Encryption Type |  WEP/TKIP/AES |
|  Dimension |  L67.5 * W54 * H19.5MM |
| Transmission Distance | 50-100 Meters |
| Oscillation Resistance | Under your request |
Product Show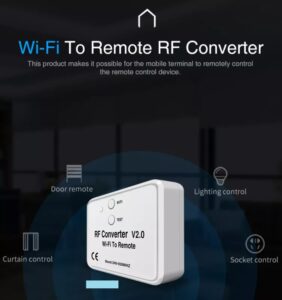 WiFi to RF Converter Multi Frequency
MRTECH Factory WiFi to RF Converter Multi-Frequency