Motorized Mild Steel Main Swing Gates 005
| | |
| --- | --- |
| Notice | If you want to place an order, please contact the seller, and we will calculate the cheapest freight for you! |
Swing gates are also resourceful for increasing the flow of vehicles or passengers. For instance, subway station terminals can ease the flow of traffic during rush hours by allowing people to use swing gates instead of only turnstile entry points. Moreover, Motorized Mild Steel Main Swing Gates can adapt to suit a variety of passenger needs. For example, if a passenger uses a stroller, wheelchair, or suitcase in an airport terminal line, the swing gate can be adjusted to accommodate the size of these travel items.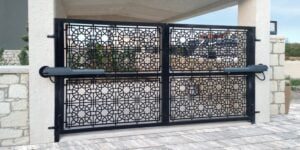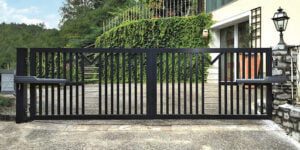 Specification:
| | |
| --- | --- |
| Brand  | MRTECH |
| Model No | MR-MMSSG005 |
| Product Name | Motorized Mild Steel Main Swing Gates 005 |
| Open Style | Swing |
| Material | Mild Steel. |
| Size | Various types of sizes are available for Customers requesting |
| Color | White, Black, Silver, and Costumer Requesting colors are Available |
| Surface Treatment  | Hot-Dip, Galvanized, Powder Coated |
| Drawing Design | According to Your request |
| Optional  products | Manual,  Semi-Automation, Automatic. |
| Application | Residential, Industrials, Commercial, etc. |
| | |
| --- | --- |
| Optional Accessories | Photo Sensor, Flashing Light, Bluetooth Controller, Wi-fi Mobile Access with ( Voice Command Through Google Assistant, Alexa, Siri ), RFID, Vehicle LOOP Detectors, Face Recognition, Bluetooth USB Port. |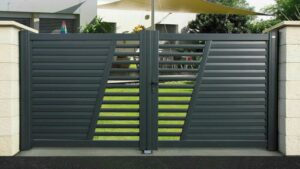 How Motorized Mild Steel Main Swing Gates is Better than Manual Swing Gates?
Opening times and design preferences are important too, but space is the most significant limitation.

Steel sliding gate needs to slide along a continuous, straight track across the driveway opening between the pillars or posts until it has completely cleared the opening.

This means that your property's perimeter wall or fence cannot angle onto the property within the distance required by a sliding gate to clear the driveway entrance.

The best ones will conduct a safety audit to identify the potential risks and propose procedures for the design and construction of the automatic gate system, as well as its usage, that eliminates as many of these as possible.