Corten Steel Fangates MR-FG32
| | |
| --- | --- |
| Notice | If you want to place an order, please get in touch with the seller, and we will calculate the cheapest freight for you! |
Corten steel is a group of steel alloys that are often used in outdoor construction. corten steel was designed to eliminate the need for painting and if left outside, exposed to the elements, they will develop a rusted appearance in just a few months.
The corten steel Fangates is perfect for modern homes and country farmhouses, but also for residential buildings and modern homes. The specific characteristics of the material make it robust and at the same time elegant, suitable for any context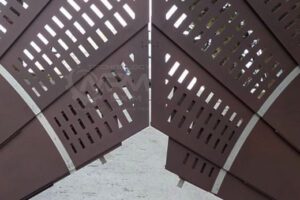 Specification:
| | |
| --- | --- |
| Brand  | MRTECH |
| Model No | MR-FG32 |
| Product Name | Corten Steel Fangates |
| Open Style | Fan Type |
| Material | Corten Steel |
| Size | Standard Size |
| Color | Rusty color |
| Power Supply | 220v/110v |
| Total Gate Weight | 510kg |
| Gate Length | 1800mm |
| Driveway Gate Width | 3200mm |
| Max. Width | 4040mm |
| MOQ | 3set |
| Application | Residential areas, Government offices, Commercial centers, etc. |
| | |
| --- | --- |
| Accessories Included With Fangates | Control Board, Remote Control, Manual key, Mounting Kit. |
| Optional Accessories | Photo Sensor, Flashing Light, Bluetooth Controller, Wi-fi Mobile Access with ( Voice Command Through Google Assistant, Alexa, Siri ), RFID, Vehicle LOOP Detectors, Face Recognition, Bluetooth USB Port. |
Standard Size of Fangates:
MODEL
DESCRIPTION
MR-FG28
DRIVEWAY WIDTH 2800MM – maximum width 3640mm.
Total weight 470 KG
MR-FG30
DRIVEWAY WIDTH 3000MM – maximum width 3840mm.
Total weight 500 KG
MR-FG32
DRIVEWAY WIDTH 3200MM – maximum width 4040mm.
Total weight 510 KG
MR-FG35
DRIVEWAY WIDTH 3500MM – maximum width 4340mm.
Total weight 570 KG
MR-FG36
DRIVEWAY WIDTH 2800MM – maximum width 4440mm.
Total weight 590 KG
Standard Designs: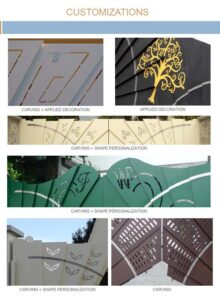 Advantages of Corten Steel Fangates:
These gates are easy to automate regardless of the limited or restricted spaces as it is easy to you can install surface-mounted operators on the rear of the gate leaf, or even underground if required or depending on a user's preference.
They are aesthetically pleasing: Fan-type Swing gates will modernize your home and make the outside look sleek and luxurious.
Automatic Fangate is extremely flexible. The way the gates open in or out of a line and fold to the right or left implies that they are much more flexible when compared to a standard or sliding gate. It also helps that the Fan-type gates can be opened at any width in the framework and can be customized to determine where the gate leaf split open.