Folding Sliding Gates
Folding Sliding Gates are very reliable and have long trouble-free lifespans. Gates with optional HPL, WPC, and Fiber sheet Occupy less Space as compared to swing gates. It maximizes space on the drive because the gate opens sideways rather than inwards and also suggest these type of folding gate for smaller space areas Preference for industrial, Commercial, and residential applications.
How do you install Folding gates Track?
These types of gates are similar to the Swing gate. For this type, the track must be curved in position for some radius which might be used to save space.
what Should I Consider before opting for a Sliding Gate?
The Space available for a gate to move through while opening ad closing plays a big part in the selection of swing gates or sliding gates
opening times and design preferences are important too, but space is the most significant limitation
A sliding gate needs to slide along a continuous, straight track across the driveway opening between the pillars or posts until it has completely cleared the opening
This means that your property's perimeter wall or fence cannot angle onto the property within the distance required by a sliding  gate to clear the driveway entrance
Whether you can install a sliding gate at your property depends on several factors, and a comprehensive site survey by a qualified gate installer should be your first step
The best ones will conduct a safety audit to identify the potential risks and propose procedures for the design and construction of the automatic gate system, as well as its usage, that eliminates as many of these as possible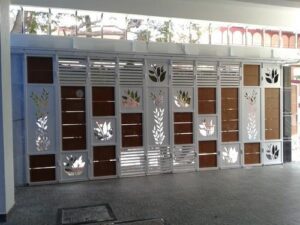 Considering a Folding Gate?
In order to maximize space without Compromising Security, the door Company installs and repairs folding gates for any business or residence. It is a stylish addition and can be automated to make your life easier. Like many of our residential gate options, we have a wide range of styles and colors to fit the sliding gate to your unique aesthetic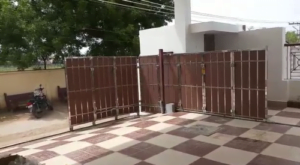 Troubleshooting Procedure for Folding Sliding Gates:
Troubleshooting the Gates if the lock hangs up and does not latch properly try the following steps before contacting technical support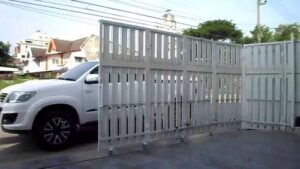 Reset the closed position limit so the gate is snug against the stop plate.
Lubricate the latch with silicone spray to help the latch to operate freely.
Check the alignment of the lock by using the key to hold the latch open while operating the gate opener.
Featured Product:
| | |
| --- | --- |
| Item | Description |
| Material | MS steel, Mild Steel, Stainless Steel, Iron. |
| Customized Design | HPL Sheet, WPC Panel, ACP Sheet, Laser Cutting Design, etc. |
| Size  | Various type of size Available Customer Requesting |
| Color | White, Black, Silver, and Costumer Requesting colors are Available |
| Surface Treatment  |  Hot-Dip, Galvanized, Powder Coated. |
| Open Style | Sliding gate |
| Optional open | Sliding-type, folding type, Bi-folding, Turning Sectional Sliding Gate, Cantilever Gate, Telescopic Gate, Retractable Gate. |
| Key Words | Main Iron Gate Designs |
| Drawing Design | According to Your request |
| Optional  products | Automation, manual,  Semi-Automation, Voice cement System, fingerprint system, |
| Application | House, Industrial, commercial place, Warehouses |
What are the advantages of Motorized Sliding Gates?
Planned and fabricated with superior square or rectangular hollow sections, along with MS sheets and flats collected by high-quality welding.
Manual operation in case of power failure.
Highly condensed dimensions & very silent operation. Built-in anti-jerk device stops damage to the automatic system
Problem detection causes the gate movement to stop if a hindrance or person is detected
The advance electronic control unit licenses operation time adjustment, partial opening, reflex closing, step-by-step control, stop safety, reverse safety, etc.
Temperature detection sensor is used to analyze the motor working temperature