Iron Track Bi-Folding Swing Gate
Iron Track Bi-Folding Swing gate has a unique folding system that allows the gate to open either inward or outward and does not require an overhead of ground track to fold to leaf. The gate are typically customizable and can be made to include spikes, barbed wire, decorative ironmongery or other features that suit a user preference
What is Swing gate:
Swing gates are gates that open and close automatically with the help of electronic , hydraulic or mechanical devices called swing gate operators. Bi-Folding Swing gate reduce the need for human to open and close the gate and are increasingly becoming a mainstay in shared facilities, such as airport terminals. Technological advances and the need for automation across various industries is driving swing gate adoption.
If you want to place an order, please contact the seller, we will calculate the cheapest freight for you!
Specification of Track bi-folding gate:
Security and safety have become paramount in today's world. Parking Facilities limited offers its customers various specification option for the construction of the Automatic Bi-Folding Swing gate. The company will typically audit and assess the clients space and offer recommendations on which Automatic swing gate would best suit their needs.
Types of Bi-folding swing gates:
Overhead Track bi-folding gate: this refers to a gate that has a track at the top of the gate and the Bi-Folding Swing gate leaf utilizes an overhead track as guide for opening and closing of the gate. Often the gate's track can be found in the overhead operator box however this is dependent on the different manufactures
Bottom Track bi-folding Swing gates : this refers to a type of bi-fold gate utilizes a track set on the ground to fold the leaf of the gate and facilitate the gates opening and closing
Featured Product:
| | |
| --- | --- |
| Item | Description |
| Material | Iron |
| Size  | Various type size Available Customer Requesting |
| Color | White, Black, Silver, and Costumer Requesting color are Available |
| Surface Treatment  |  Hot-Dip, Galvanized, Powder Coated |
| Open Style | Swing Gate |
| Optional open | Sliding-type, Swing Type, folding type, Bi-folding, Turning Sectional Sliding Gate |
| Key Words | Iron Track Bi-Folding Swing gate |
| Drawing Design | According to Your request |
| Optional  products | Manual,  Semi-Automation, Automatic, Voice command System, Fingerprint RFID, Loop Detector & Mobile Access via Mac / Android App's |
| Application | House, Industrial, commercial place. |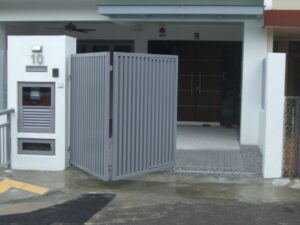 Automatic BI-fold Gates:
Today, in the modern and fast paced world the importance of ensuring the safety and security of assets and individuals cannot be stressed enough. Almost every day, the occurrence of incidences related to burglary, theft, and vandalism has increased and we hear about damage or loss occurring as a result of security lapses every other minute.
Due to these reasons, Iron Track Bi-Folding Swing gate has become vital that security measures are taken in part of the occurrences of such threats swell as to monitor and protect assets
 Advantages of BI-Folding gate
These gates are easy to automate regardless of the limited or restricted spaces as it easy to you can install surface-mounted operators on the rear of the gate leaf, or even underground if required or depending on a user's preference.
They are aesthetically pleasing: Bi-Fold Swing gate will modernize your home and make the outside look sleek and luxurious.
Automatic Bi fold gate are extremely flexible. The way the gates open in or out of a line and fold to the right or left implies that they are much more flexible when compared to a standard or sliding gate. It is also helps that the bi-folding gates can be opened at any width in the framework and can be customized to determine where the gate leaf split open.