Oxidation Resistance Fangates MR-FG30
| | |
| --- | --- |
| Notice | If you want to place an order, please get in touch with the seller, and we will calculate the cheapest freight for you! |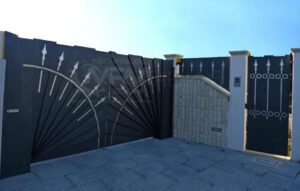 The modern Fangate can be used in both high and low-security situations and is often installed in conjunction with vehicle gates. It can not only manage the entrance and exit of people, ensure the security of the community, but also achieve great advertising effect through its unique form. The gate adopts gear set acceleration, which can lift up to 90 degrees upward, which gives more space for the entrance of any vehicle.
Oxidation resistance can be defined as the resistance of lubricants to react with oxygen which may cause them to degrade and break down.
It's more convenient and provides ease of access than manual gates.
Offers more security against intruders and protection for kids and pets to not go wandering away from the property.
Automatic gates are a consideration as an investment.
They are more durable.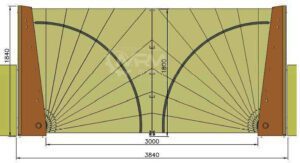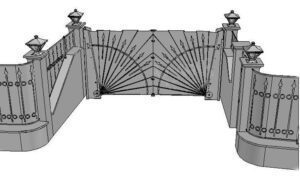 Specification:
| | |
| --- | --- |
| Brand  | MRTECH |
| Model No | MR-FG30 |
| Product Name | Oxidation Resistance Fangates |
| Open Style | Fan Type |
| Material | Stainless Steel |
| Size | Standard Size |
| Color | White, Black, Grey, and Customized colors |
| Power Supply | 220v/110v |
| Total Gate Weight | 500kg |
| Gate Length | 1800mm |
| Driveway Gate Width | 3000mm |
| Max. Width | 3840mm |
| MOQ | 3set |
| Application | Residential areas, Government offices, Commercial centers, etc. |
| | |
| --- | --- |
| Accessories Included With Fangates | Control Board, Remote Control, Manual key, Mounting Kit. |
| Optional Accessories | Photo Sensor, Flashing Light, Bluetooth Controller, Wi-fi Mobile Access with ( Voice Command Through Google Assistant, Alexa, Siri ), RFID, Vehicle LOOP Detectors, Face Recognition, Bluetooth USB Port. |
Standard Size of Fangates:
MODEL
DESCRIPTION
MR-FG28
DRIVEWAY WIDTH 2800MM – maximum width 3640mm.
Total weight 470 KG
MR-FG30
DRIVEWAY WIDTH 3000MM – maximum width 3840mm.
Total weight 500 KG
MR-FG32
DRIVEWAY WIDTH 3200MM – maximum width 4040mm.
Total weight 510 KG
MR-FG35
DRIVEWAY WIDTH 3500MM – maximum width 4340mm.
Total weight 570 KG
MR-FG36
DRIVEWAY WIDTH 2800MM – maximum width 4440mm.
Total weight 590 KG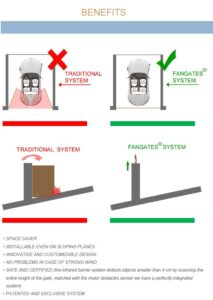 Furthermore, a gate with a fan-type model according to the invention is not affected by the slope of the ground where it needs to be installed, both with longitudinal, transverse, or in any other way sloping of the access. Even in the case of a gate with two doors, the problem is solved by placing the columns on two different planes and synchronizing the fan angle so that they close parallel to the ground.
Standard Designs: