Classic Version Steel Fangates MR-FG35
| | |
| --- | --- |
| Notice | If you want to place an order, please get in touch with the seller, and we will calculate the cheapest freight for you! |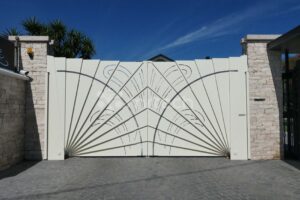 Made in cold galvanized steel provided with complete automation and safety plus kit Finishing: according to our colors catalog. The mechanism functions upon a spiral spring, inserted into the drum for rotation of the fan-type door making it easy for the hand-driven to open and close. When the door opens the rigid elements are packed disappearing into the wall.
The advantages of Classic Version Steel Fangates.
Space saver
Installation even on sloping planes
Innovative and customizable design
No problems in case of strong wind
Safe and certified ( the infrared barrier system detects objects smaller than 4 cm by scanning the entire height of the gate, matched with the motor obstacles sensor we have a perfectly integrated system)
Patented and Exclusive system.
Specification:
| | |
| --- | --- |
| Brand  | MRTECH |
| Model No | MR-FG35 |
| Product Name | Classic Version Steel Fangates |
| Open Style | Fan Type |
| Material | Mild Steel, Aluminum, and Customer needs requests upon |
| Size | Standard Size |
| Color | White, Black, Grey, and Customized colors |
| Power Supply | 220v/110v |
| Total Gate Weight | 570kg |
| Gate Length | 1800mm |
| Driveway Gate Width | 3500mm |
| Max. Width | 4340mm |
| MOQ | 3set |
| Application | Residential areas, Government offices, Commercial centers, etc. |
| | |
| --- | --- |
| Accessories Included With Fangates | Control Board, Remote Control, Manual key, Mounting Kit. |
| Optional Accessories | Photo Sensor, Flashing Light, Bluetooth Controller, Wi-fi Mobile Access with ( Voice Command Through Google Assistant, Alexa, Siri ), RFID, Vehicle LOOP Detectors, Face Recognition, Bluetooth USB Port. |
Standard Size of Fangates:
MODEL
DESCRIPTION
MR-FG28
DRIVEWAY WIDTH 2800MM – maximum width 3640mm.
Total weight 470 KG
MR-FG30
DRIVEWAY WIDTH 3000MM – maximum width 3840mm.
Total weight 500 KG
MR-FG32
DRIVEWAY WIDTH 3200MM – maximum width 4040mm.
Total weight 510 KG
MR-FG35
DRIVEWAY WIDTH 3500MM – maximum width 4340mm.
Total weight 570 KG
MR-FG36
DRIVEWAY WIDTH 2800MM – maximum width 4440mm.
Total weight 590 KG
Standard Designs of Classic Version Steel Fangates: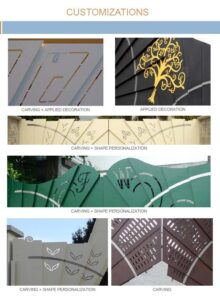 A classic version fan-type gate according to the invention solves the problem of space as the door disappears in the column suitably constructed with a hollow structure capable of containing also the eventual drive mechanism. Fangates are an innovative system that solves issues with traditional gates such as space and inclines, While looking individual and amazing. Custom finishes, colors, and designs to suit the customer. The gates open in around 11 seconds ready for use, with all safety features contained in the columns.