Security System Electromagnetic Magnetic Door Lock MR-EML500
| | |
| --- | --- |
| Notice | If you want to place an order, please contact the seller, we will calculate the cheapest freight for you! |
4Wires 500KG Waterproof Electromagnetic Lock- Surface Mounted
What is Electromagnetic Lock?
Electromagnetic Door Lock consist of an armature and a coil assembly, which become magnetized when an electric current passes through them. This magnetic field secures the door and electronically controls when doors are locked and unlocked.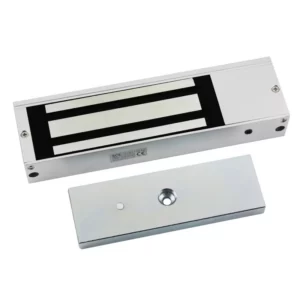 Features of Electromagnetic Door Lock MR-EML500
Electromagnetic locks are fail-safe by design.
Dual voltage selectable (12VDC or 24VDC)
304 stainless steel housing
Epoxy-sealed electronics and weatherized for indoor and outdoor use
Anti-Residual magnetism designed
Low current consumption
High-strength material, anodized aluminum housing
Anti-residual magnetism designed
Durable and silent operation
CE Certificate by European Union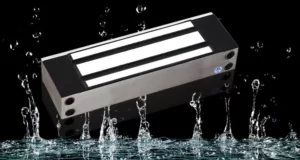 Electromagnetic Door Lock Specification:
| | |
| --- | --- |
| EL-W1200S 4wires | 12V & 24V adjustable |
| EL-W1200SD 7wires | 12V & 24V adjustable and door sensor function, NO/NC/COM |
| Lock Size |  222L x 62W x 38Hmm |
| Armature Plate | 195L x 61W x 15Hmm |
| Holding Force | 500kg (1200Lbs) |
| Voltage | DC12V or DC24V(adjustable) |
| Current Draw | 12V/420mA 24V/210mA |
| Optional Bracket | LZ-W1200 |
| Suitable for | Wooden door, Glassdoor, Metal door, Fireproof door |
| Surface Temperature | ≤20ºC |
| Operating Temperature | -10ºC∼55ºC (14ºF∼131ºF) |
| Suitable Humidity | 0-90%(non-condensing) |
| Finishes of shell | Anodized aluminum |
| Finishes of Magnetic | Zinc |
| Finishes of Armature | Zinc |
| Weight | 4.5Kg |

How Electromagnetic Locks be used?
An Electromagnetic Door Lock is part of an entire security which may be connected to a keycard reader or to a complex system consisting of connections to central monitors that monitors the security of the premises.
It can be used for both in-swinging and out-swinging doors. For In-swinging doors, the lock is usually installed at the opening corner of the door. For out-swinging door the lock is usually installed on the side of the door header.