Roller Shutter Tubular Motor MR-RSTM92
Electric motors of 92mm series are designed for automation of roller shutters with leaf weighing up to 300kg and a shaft with diameter of 102mm. The Drive has a built-in reducer of emergency opening that allows you to control roller shutters in the absence of power in the network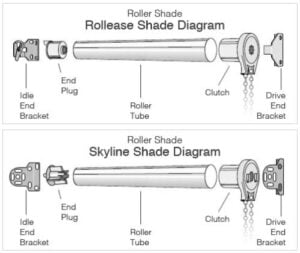 Roller Shutter Tubular Motor designed for blinds, roller shutters, rolling doors and curtains, allows the application of several accessories to operate with all types of tubes. It is available in various diameters (35, 45, 59, and 92), with or without a built-in control board, and with or without a manual crank.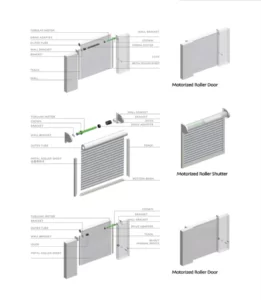 Benefits of Roller Shutter Tubular Motor
Standard Type, Traditional Type
Lower Noises
used for awnings, roller blinds, roller shutters, rolling doors, etc.
Mechanical limit switches, Adjustable limit switch
convenient installation and operation
Special design for solving power failure and overheating protection
Stable quality with an attractive price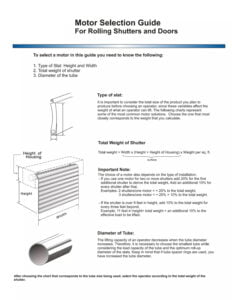 Specification:
| | |
| --- | --- |
| ITEM  | DESCRIPTION |
| Brand Name | MRTECH |
| Model Number | MR-RSTM92 |
| Type | Automatic Door Operator |
| Name | Roller Shutter Tubular Motor |
| Usage | Garage, Blinds, Shutter, Door, Window |
| Material | Aluminum alloy |
| Voltage | 230V |
| Input Power | 580W∼980W |
| Rated Current | 2.60A |
| Output Torque | 140Nm ∼ 330Nm |
| Output Speed | 12(r/min) |
| Max. Lifting  | 70kg |
| Motor Weight | 16KG |
| Standard Tube  |  4″inch |
| MOQ | 3 Set |
| Application | Residential, Commercials, Industrials |
The new super quiet motion drive for roller shutters in the wired version with two selectable running modes: standard running or whispering mode. Gentle operation is ensured by the protection of the blind, intelligent force measurement, and soft brake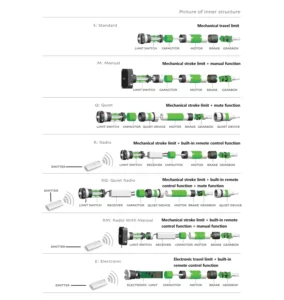 | | |
| --- | --- |
| Accessories Included with Tubular Motor | Shaft Adapter, Cheek plate, U cup or Bearing, Limit Switches, Control Unit. |
| Optional Accessories | Bluetooth Controller, Wi-fi Mobile Access with ( Voice Command Through Google Assistant, Alexa, Siri ), RFID , Fingerprint, Vehicle LOOP Detectors, Face Recognition, Lock Box with Key. |
Details of Roller Shutter Tubular Motor:
Operation voltage range from 180 to 240v allows using tubular motors in the networks with unstable voltage.
Motors of the electric drive are equipped with an electric brake which provides an accuracy of stopping in the end positions and performs the functions of the lock.
Electric motors of 92mm series are designed for the automation of roller shutters with leaves weighing up to 300kg and a shaft with a diameter of 102mm. The Drive has a built-in reducer of emergency opening that allows you to control roller shutters in the absence of power in the network
Limit Switches have highly accurate and reliable performance due to its metal gears and axes resistant to wear.
A 3-stage planetary reducer, gears of which are made of high-strength steel is located inside the case. Their durability ensures long service life.
Technical Parameters of Roller Shutter Tubular Motor:
Model
Rated Torque
(N.m)
Rate Voltage
(V)
Rated Frequency
(Hz)
Rated Power Input
(W)
Tube Diameter
(mm)
Rated Current
(A)
Running Time
(min)
Rated Speed
(rpm)
Protection Index
(IP)
Insulation
MR-RSTM45
8
230
50
158
92
0.70
S2 4min
12/17
Ip44
class F
10
230
50
162
92
0.75
S2 4min
12/17
Ip44
class F
15
230
50
170
92
0.78
S2 4min
12/17
Ip44
class F
20
230
50
178
92
0.80
S2 4min
12/17
Ip44
class F
30
230
50
235
92
1.05
S2 4min
12
Ip44
class F
40
230
50
276
92
1.23
S2 4min
12
Ip44
class F
50
230
50
282
92
1.25
S2 4min
12
Ip44
class F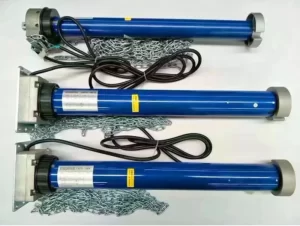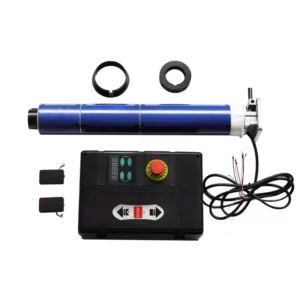 Type

Rated Torque

Rated Speed

Rated Current

Rated Power Input

Defree of Protection

Running Time

MAX Number of Turns

MR-RSTM92C-R230N

230

12

2.5

580

IP44

4

22

MR-RSTM92C-R300N

300

6

3

690

IP44

4

22

MR-RSTM92C-R350N

350

6

3.5

800

IP44

4

22

MR-RSTM92C-R400N

400

6

3.5

800

IP44

4

22

Type

Rated Torque

Rated Speed

Rated Current

Rated Power Input

Defree of Protection

Running Time

MAX Number of Turns

MR-RSTM92C-R230N

230

12

5

575

IP44

4

22

MR-RSTM92C-R300N

300

6

6

685

IP44

4

22

MR-RSTM92C-R350N

350

6

7

795

IP44

4

22

MR-RSTM92C-R400N

400

6

7

795

IP44

4

22