Wireless Infrared Reflective Photocell Gate and Door MR-IPC504
Photocell sensor for automatic door and gate
Indoor 20m, Outdoor 10m
12-24 VDC/AC
Waterproof
Anti-sunlight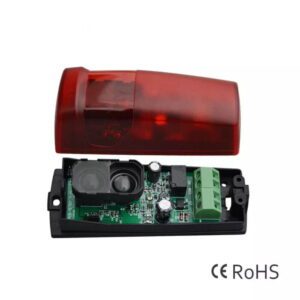 Single beam sensor/single beam detector is used for automatic slide doors, coil doors, garage door windows, etc.
Consists of a transmitter and a receiver, and the integrated amplifier can produce an infrared beam. A narrow Infrared Reflective Photocell Gate and Door beam (I or II) can avoid interruption by external light.
Even if installed at a low height(20-40cm from the floor), the detecting distance can also be guaranteed(5-15meters).
The beam produced by MICROCELL provides a self-detecting function for the sliding doors. Once the self-detecting beam is interrupted, the door will stop closing and reverse rapidly to the utmost width. The door will open until the detecting beam is resumed. When the door completely closes, the detecting beam becomes invalid.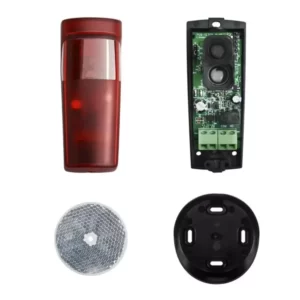 Infrared Reflective Photocell Gate and Door MR RIP84
| | |
| --- | --- |
| Infrared Frequency |  1.92khz |
| Power Supply |  12 to 24V DC/AC |
| Wavelength |  940nm |
| Input |  r*15ma – t*30ma |
| Operating Temperature |  -20º ∼ 50º |
| Relay Output |  1 a max *36 V |
| Range | The range can be reduced to 30% in bad weather conditions: for rain, dust, etc |