High Quality Central Electric 180KG Motor for Roller Doors
MRTECH M160 / M180 KG
A very popular choice, Rolling Doors are controlled by a Electric Rolling Shutter Center Motors that opens and closes with the push of a button. These shutters can be operated by remote control or with a wall-mounted control panel.
Benefits of High Quality Central Electric 180KG Motor for Roller Doors:
Easy to open and shut.

Ideal for homeowners who find manual shutters hard to open and close.

Durable, Offering secure protection from the elements and would-be intruders.

can be programmed to open & close at particular times of the day.

can be controlled remotely.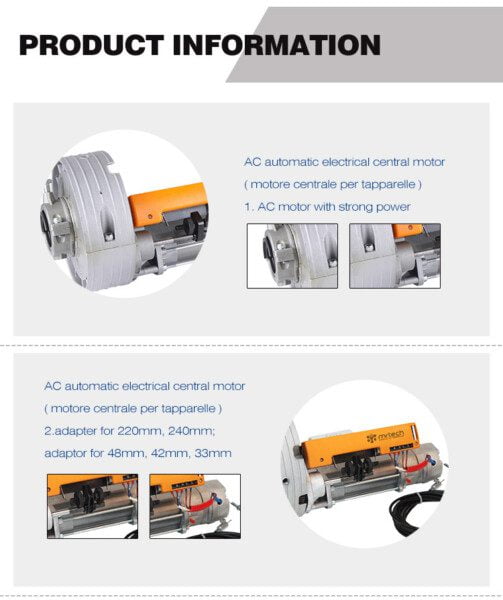 Technical Details:
| | |
| --- | --- |
| Brand | MRTECH |
| Model No | MRTECH M180 |
| Product Name | High Quality Central Electric 180KG Motor for Roller Doors |
| Motor Type | Center Rolling Shutter Motor |
| Material | Aluminum Alloy |
| Voltage | 110V / 220V AC |
| Torque | 180 N.m |
| R.P.M | 10 r.p.m |
| Limit Switch | 6 m |
| Cut Out Temperature | 4 min |
| Power Absorbed | 590 W |
| Consumption | 2.56 A |
| Lifting | 180Kgs |
| Tube Rolling | 60 mm |
| Pulley | 200 mm |
| MOQ | 3 Set |
| Usage | Garage Shutter Door |
| Package Included | Motor, Radio frequency receiver, Remotes |
| Applications | Shopping Complex, Hospitals, Hotels, apartments, Office Buildings, etc |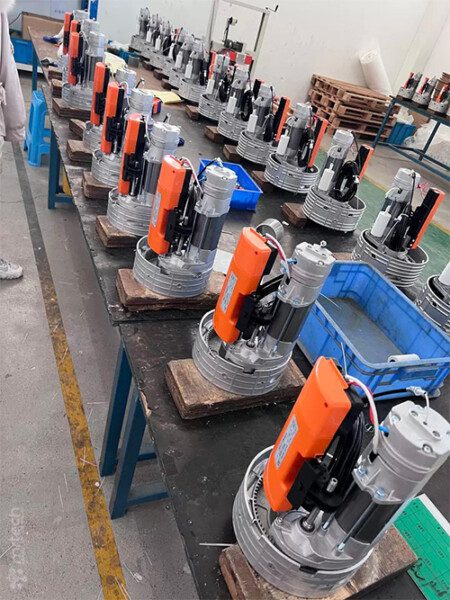 Advantages of Central Electric 180KG Motor for Roller Doors:
Easy to operate: Most Roller shutter doors operate electrically, making them easy to open and close. It's as simple as the push of a button.
Secure: Roller Shutter doors are made of strong metals like steel and aluminum. This makes roller shutters robust and durable, which is the perfect deterrent against thieves.
Fire Protection: Shutter Center Motor can help slow the spread of fires. What's more, some roller shutters come with a fire-protecting rating, which means the shutter is built to withstand a fire for a certain amount of time
Rust and scratch protection: Roller Shutters often have special coatings to prevent rust and scratches. And if you find any rust or damage, then you can just re-paint the shutters to continue using them for a long time.
 Optional Products :
Bluetooth controller.

Wi-Fi mobile access Controller.

RFID with Detector.

Face Recognition.

Photocell sensor.

Electrical  Side lock and center Lock.

Bluetooth USB Controller.

Safety Break system.
| | |
| --- | --- |
| Notice |  If you want to place an order, please contact the seller, and we will calculate the cheapest freight for you! |