DC Rolling Shutter Motor MRTRS-300
Owing to the presence of our expert team members, we have been able to offer a wide range of DC Rolling Shutter Motor. These are available with us in various technical specifications and range as per the precise demands and requirements of clients.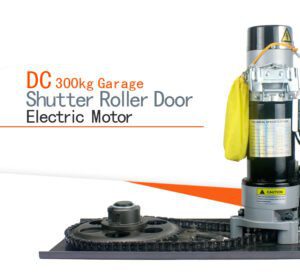 Side rolling shutter motors are the most common automation product which is preferred by all automation companies across the world. Side motors are mostly used by heavy industrial and regular-sized rolling shutters.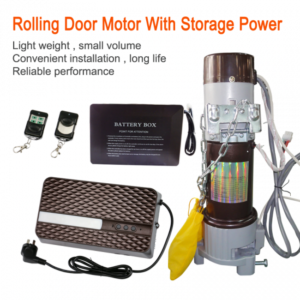 Differences between  AC Motor and DC Motor?
In AC Motor, the armature is stationary while the magnetic field rotates. In DC Motors, the armature rotates while the magnetic field remains stationary. In AC Motors, the three input terminals (RYB) are present. In DC Motors, two inputs terminals ( Positive and Negative ) are present
DC Rolling Shutter Motor
Stylish Design, Up-to-date Technology
Overheat protection and overload protection
Low noise
Easy manual operation when power failure
Precise Limit Switch
Security, with an anti-fall protection device
The control box and built in battery could be used to open/close the door when powered off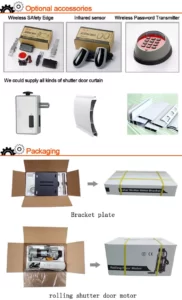 Specification:
| | |
| --- | --- |
| ITEM  | DESCRIPTION |
| Brand Name | MRTECH |
| Model Number | DC Rolling Shutter Motor MRTRS-300 |
| Type | Automatic Door Operator |
| Name | DC Rolling shutter motor |
| Usage | Garage Shutter Door |
| Material | Aluminum alloy |
| Voltage | 220V 50Hz |
| Input Power | 175 w |
| Rated Current | 10 A |
| Output Torque | 165 Nm |
| Output Speed | 8 (r/min) |
| Max. Elevating distance | 4.5 m |
| Max. Lifting  | 300 kg |
| Motor Weight | 7.9 KG |
| Standard Tube | 4 inch |
| MOQ | 3 Set |
| Application | Residential, Commercials, Industrials |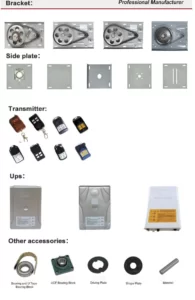 | | |
| --- | --- |
| Accessories Included with Motor | Lock Box with Key, Sprocket Bracket (main), Side Bracket, Transmission Plate, Supporting Plate, Shaft, Bearing Seat, Bearing, Chain, and Chain Wheel. |
| Optional Accessories | Bluetooth Controller, Wi-fi Mobile Access with ( Voice Command Through Google Assistant, Alexa, Siri ), RFID, Fingerprint, Vehicle LOOP Detectors, and Face Recognition. |

Technical Specification
Model
Input Voltage & Frequency
Input Power
( w )
Output Power
( w )
Output Torque
( N.m )
Rated Current
( A )
Max. Lifting Force
( kg )
Rated Speed
(r/min)
Max. Raising Height
( m )
Tube Diameter
( Inch )
MRTRS-DC 300
220v/50Hz
175
155
165
10
300
8
4.5
4″
MRTRS-DC 600
220v/50Hz
360
280
412
15
600
6.5
6
5″
MRTRS-DC 800
220v/50Hz
456
375
647
19
800
5
9
6″