Retractable Garden Canopy
| | |
| --- | --- |
| Notice | If you want to place an order, please contact the seller, and we will calculate the cheapest freight for you! |
How automatic retractable garden canopy works?
When operated the motor will wind the barrel, opening the fabric cover. The arms work because of a spring tension system or gas pistons. Many people assume they push the cover open, but the arms simply automatically follow the cover as it opens or closes. The tension from the springs or pressure of the gas ensures they open and close softly.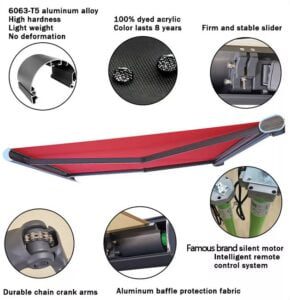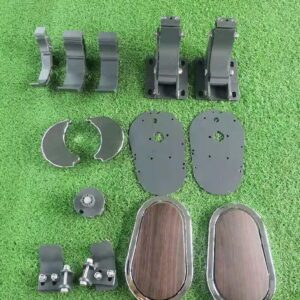 Specifications:
| | |
| --- | --- |
| Brand  | MRTECH |
| Model No | MR-MRA09 |
| Product Name | Retractable Garden Canopy |
| Product Method | Motorized |
| Frame Material | Aluminum Alloy |
| Fabric Type | Acrylic/Polyester/Vinyl |
| Fabric Color | All Colors Available ( Customized ) |
| Operation Method | Automatic |
| Protection  | Waterproof, Windproof, Rainproof, Heat Dissipation. |
| Size | 2m, 2.5m, 3m, 3.5m, 4m. |
| MOQ | 3set |
| Application | Home, Restaurants, Food & Beverage Stores, Departments Stores, Super Markets, Cafes & Coffee Shops, etc. |
| | |
| --- | --- |
| Optional Accessories for Retractable Garden Canopy  | Rain Sensor, Sun Sensor, Weather Sensor, Photo Sensor, Bluetooth Controller, Wi-fi Mobile Access with ( Voice Command Through Google Assistant, Alexa, Siri ), etc. |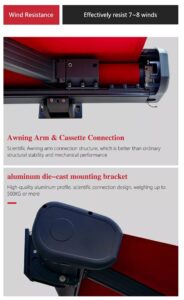 Features of Retractable Garden Canopy:
Perfect for shading windows and balcony doors etc
A stainless aluminum frame makes the awning more sturdy and uneasy to get rusted.
Two steel cables in the center joint of the arms, easier to project and retract, strong enough to withstand the pressure of wind and raindrops.
PU coating fabric, great heat resistance, and UV protection.
The slope of the awning is approximately 5-75 degrees adjustable from the horizontal line.
Retractable- can be opened as much or as little as you like up to the max projection.
Comes with complete accessories, ready to be fitted.
Easy to clean with a sponge or cloth with water.