Pergola with Roof and Sides Awning
| | |
| --- | --- |
| Notice | If you want to place an order, please get in touch with the seller, and we will calculate the cheapest freight for you! |
Equipped with a louver system top surface, can open and close at 140º, than similar products on the market the rotation angle is 5-10º more, which can import more light while increasing the canopy's internal air circulation.
The full shading is seamless and can be completely isolated. Heat radiation transmittance can be reduced to 0.1%, so as to achieve the function of environmental protection. Track bars are fireproof, protect the product from high winds or severe vibration, are used inside and outside, suitable for hotels, offices, buildings, patios, balconies, etc.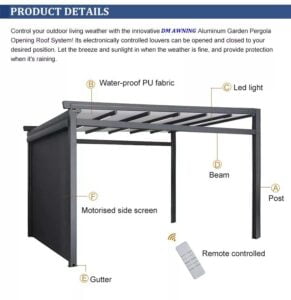 Specifications:
| | |
| --- | --- |
| Brand  | MRTECH |
| Model No | MR-MP07 |
| Product Name | Pergola with Roof and Sides Awning |
| Material | Aluminum Alloy |
| Coating | PVDF or Powder Coating |
| Color Options | Customizable |
| Operation | Electric |
| Motor Voltage | 110v or 220v |
| Waterproof Rating | IP67 |
| Wind Resistant | Upto 200 KM/H |
| Snow Loading | 90cm |
| Angle Adjustable | 0º ∼ 140º |
| MOQ | 3set |
| Application | Residential, Commercial, Government offices, office rooms, hospitals, etc. |
| | |
| --- | --- |
| Optional Accessories for Pergola with Roof and Sides Awning | Sun sensor, Rain Sensor, Wind sensor, Weather sensor, Photo Sensor, Bluetooth Controller, Wi-fi Mobile Access with ( Voice Command Through Google Assistant, Alexa, Siri ), etc. |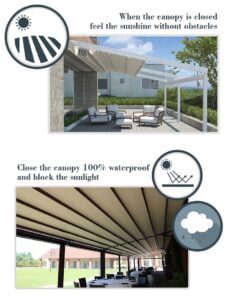 Benefits of Pergola with Roof and Sides Awning
Rainproof: On rainy days, when the blades are completely closed, the louver system will form a fully sealed waterproof top surface.
Windproof: Aggrandizement is a fixed design, the pergola that installs to finish has excellent prevent wind capacity.
Snow protection: With high load-bearing optimized design, each square meter can carry 110 kg of snow approximately equal to the total amount of snow in 10 consecutive days.
Sun protection: When the leaves are closed, 100% UV protection and heat blocking inside the tent.
Fire prevention: Aluminum, magnesium, and silicon alloy main body, outdoor special fabric, both have anti-fire performance. Compared with wooden or resin material canopy products, with safety fire protection function.
Mosquito prevention: The top-turning louver system can prevent mosquitoes from entering the facade with a windproof rolling curtain system, the mosquito prevention effect is better.