Industrial Sliding Gates with Motors:
 Industrial Sliding Gates with Motors is working on a simple but effective mechanism by sliding on either side of the opening. Tested graded steel is used for the manufacturing of these Sliding Gate & thus the sling gates are strong to protect your premises from unauthorized access. Own Design & In-House Manufacturing process. Avians automatic motorized sliding gates come in various patterns and designs as per a customer's requirements. High-quality CNC finish top and bottom rollers.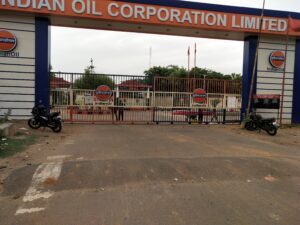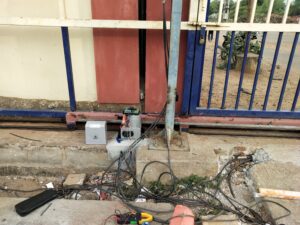 Heavy duty and smooth operation bottom track Imported robust electrical motor and controls. These electric devices actually enable the electric gate to open and close without having to manually push the gate. Electric sliding gates guarantee a completely secure environment with electric locks. Control to stop anytime while the gate is moving. Various safety devices are available to make sure that our gates meet the highest safety standards.
Industrial Sliding Gates with Motors Features
These Industrial Sliding Gates with Motors are widely used and Economical options among all types of gates
Works on Precise machine-cut toothed pinion along with galvanized rack arrangement.
Our Industrial Sliding Gates with Motors are available in single-side or double-side sliding suggested to suit actual site condition
The bottom rail is made up of a polished bright bar which is supported by a heavy-duty I-beam.
Top Nylon guide rollers with bearings are used for smooth operation & to guide moving Leaves.
At each end-track stopper is placed to absorb any impact and to hold the gate in the open or closed position
Vertical safety edge can be installed to protect against any damage or injuries in case of accidents
Also, These  Industrial Sliding Gates with Motors are available with inbuilt hinged/Sliding type side gates for pedestrian use
Electromechanical European make geared motors range from 400 to 6000 kg for heavy gate application
These Sliding Gates can be manually operated in case of power failure
These Sliding Gates can be interlocked with an entrance boom barrier as additional safety
Various industrial gate designs available to suit clients' choice
Sandblasting, hot deep galvanizing process, and painting can be provided.
Technical Specification
Product Motorised Conventional Sliding GateGate Dimension Width Min./Max.Single Leaf : 1000/15000mm
Double Leaf:1000/30000mm Height Min./Max.1000/3000mm
Larger Dimension on request Opening Direction Horizontal Mounting LocationInside/ OutsideMounting SurfaceBottom Rail: RCC
Columns: RCC
Gate Design
Pattern Standard Mild Steel Tubular pattern Internal vertical member Heavy Duty Vertical Box sections
(or Customized design available on request)Bottom Rail Polished bright bar with I-beam support
Dual track bottom rail for large opening gates as per design bottom Rollers Heavy Duty Bottom Wheel with both side bearings full height Column Heavy Duty Box Section
(or Customized design available on request)Guide Rollers Nylon Rollers with bearings on both sides mounted on the column for support & smooth movement of the gate.
Patterns/Designs
Other available gate materials are stainless Steel,
Hot dip Galvanized Sheets M.S/GI/Perforated /Aluminium sheets
Polycarbonate / Acrylic / PVC Sheet/Glass/Wood/ Fundermax panels Ornamental DesignsOn Request or as per client design.Options Available Spikes as per requirement
Wicket gate/Side Gates in a similar pattern as the main gate
Any type of Customized Industrial Sliding Gates with a Motors Design can be made on request.
Finish
Surface Finish Surface preparation:-Sand Blasting
Standard: Primer Finish
Optional: Enamel Painting/Duco/PU painting/ Powder coating/ Hot deep Galvanising
Specification:
| | |
| --- | --- |
| Brand  | MRTECH |
| Model No | MR-ISGM16 |
| Product Name | Industrial Sliding Gates with motors |
| Open Style | Sliding Gate |
| Material | Mild Steel, Stainless Steel, Aluminum, etc |
| Size | Various types of sizes Available Customer Requesting |
| Color | White, Black, Silver, and Costumer Requesting colors are Available |
| Surface Treatment  | Hot-Dip, Galvanized, Powder Coated |
| Drawing Design | According to Your request |
| Optional  products | Manual,  Semi-Automation, Automatic. |
| Application | Residential, Industrials, Commercial, etc. |
| | |
| --- | --- |
| Optional Accessories  | Photo Sensor, Flashing Light, Bluetooth Controller, Wi-fi Mobile Access with ( Voice Command Through Google Assistant, Alexa, Siri ), RFID, Vehicle LOOP Detectors, Face Recognition, Bluetooth USB Port. |