DC 800kg Electronic Rolling Shutter Side Operator Motor
| | |
| --- | --- |
| Notice |  If you want to place an order, please contact the seller, and we will calculate the cheapest freight for you! |
When it comes to installing Motorized roller shutters, you have many options available to you. Whether you want increased security, energy savings, or a modern look, you'll be able to find the perfect roller shutter to suit your needs.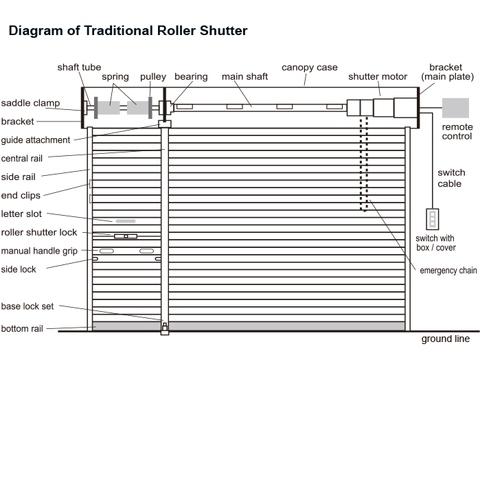 Resistance rebound: The motor comes with a resistance rebound function. No need to install other accessories to achieve the door to meet the resistance rebound.
Difference between an Electronic limit switch vs  General Mechanical motor:
1. Positioning accuracy: Absolute value position accuracy
precision –absolute limit, no limit, no top in electronic limit motor

General — after a period of time the limit screw wear is prone to run limit and limit devices failure will rush to the top in General mechanical motor
2. Limit Debugging: Debug limit operation is simple and convenient
Electronic Limit Motor: Simple– the operator through the controller or remote. control button on the debug, the door is open and closed to complete debugging.

General mechanical motor: Complicated– the engineering personnel ascended to the motor side, shifting the limiting nut by hand to set and repeated the steps many times, just could be debugged.
Technical Parameters:
| | |
| --- | --- |
| Brand | MRTECH |
| Model No | MR RSEDC800 |
| Product Name | DC 800kg Electronic Rolling Shutter Side Operator Motor |
| Motor Type | Side Rolling Shutter Motor |
| Material | Aluminum Alloy |
| Input Voltage | DC 24V |
| Rated Current | 16 A |
| Rated Power | 430 W |
| Output Speed | 2.5 r/min |
| Output Torque | 647 N.m |
| Lifting Capacity | 800 kg |
| Rolling Tube Diameter | 6 " |
| Max. Elevating Distance | 9 m |
| Short-time Rating | <15 Min |
| Remote Control Distance | >30m |
| Type of Chain | 10A |
| MOQ | 3 Set |
| Usage | Garage Shutter Door |
| Package Included | Motor, Battery, Radio frequency receiver, Remotes |
Applications of DC 800kg Electronic Rolling Shutter Side Operator Motor:
Restaurants.

Warehouses.

Industries.

Jewelry Showroom.

Apartments.

Chemical Plant.
Add-on Products with DC 800kg Electronic Rolling Shutter Side Operator Motor:
Electrical  Side lock and center Lock.

Bluetooth USB Controller.

Safety edge.

Safety Break system.

Bluetooth controller.

Wi-Fi mobile access Controller.

RFID with Detector.

Face Recognition.

Photocell sensor.