Top Roof Automatic Skylight Blinds
| | |
| --- | --- |
| Notice | If you want to place an order, please get in touch with the seller, and we will calculate the cheapest freight for you! |
How does skylight protect us?
Skylights let natural light into your home, but sometimes you need to control that excess heat and glare, just like any other window. They can also help make your guest bedroom more inviting. Before you consider buying Top roof automatic Skylight Blinds, let's look at their many advantages
They control light.
They Darken your room.
They Help control temperature.
They prevent Fading.
They Hide Dirt.
They add color and texture.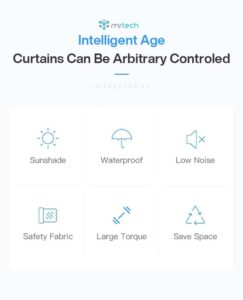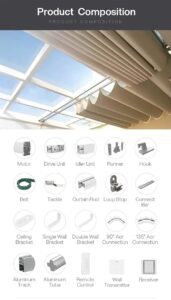 Specifications:
| | |
| --- | --- |
| Brand  | MRTECH |
| Model No | MR-SBM03 |
| Product Name | Top Roof Automatic Skylight Blinds |
| Applicable For | Skylight Blinds |
| Motor Type | Tubular Motor |
| Rated Voltage | 100-240V AC 50/60Hz |
| Rated Torque | 2.0 Nm |
| Moving Speed | 15cm/s |
| Motor Decibel | ≤36db |
| Rated Power | 50W |
| Max. Length | 10M |
| Max. Width | 3M |
| Max. Load | 60KG |
| Remote Distance | 20M |
| Protection Class | IP41 |
| MOQ | 5set |
| Application | Residential, Commercial, Government offices, office rooms, hospitals, etc. |
| | |
| --- | --- |
| Accessories Included with Motor | Shaft Adapter, Cheek plate, U cup or Bearing, Limit Switches, Control Unit. |
| Optional Accessories | Sun sensor, Rain Sensor, Wind sensor, Weather sensor, Photo Sensor, Bluetooth Controller, Wi-fi Mobile Access with ( Voice Command Through Google Assistant, Alexa, Siri ), etc. |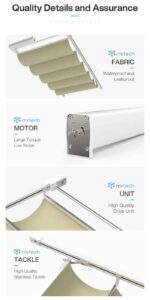 An innovative gear and groove design allow each shade to glide smoothly and effortlessly within the gear track. Skylight shades accommodate a wide variety of windows and skylights, as well as the challenging curves of greenhouse ceilings, with ease