Automatic Stainless Steel LED Road Bollard MR-AB800
| | |
| --- | --- |
| Notice | If you want to place an order, please contact the seller, we will calculate the cheapest freight for you! |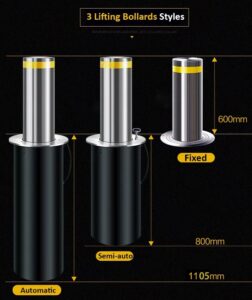 Hydraulic automatic bollards mainly consists of oil pump unit and steel frame construction. It use soil pressure as dynamic to realize the rise/fall of bollard. As a moving device, it is usually installed at vehicle entrance/exit. It rises to block the vehicle and falls the ground level to authorize free passing.
The rising bollards system is designed to bring convenience and enhancements to higher-level security. It is an ideal choice for universities, pedestrian sidewalks, parking lots, government buildings, gyms, amusement parks, airports, shopping centers, hospitals, and occasions with high traffic flow.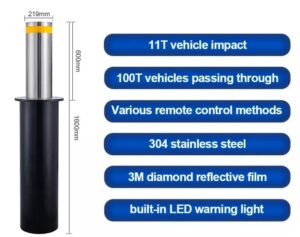 Specification:
| | |
| --- | --- |
| Brand  | MRTECH |
| Model No | MR-AB800 |
| Product Name | Automatic Stainless Steel LED Road Bollard |
| Material | Stainless Steel 304 |
| Power Supply | 220v/380v |
| Lamp Belt | LED lamp (Acrylic light circle) |
| Thickness | 6∼10mm Customized Thickness |
| Height | 1105mm, Customized Height |
| Rising Height | 800mm |
| Diameter | 275/220mm |
| Raising /Lowering Speed | 3∼6s (adjustable) |
| Working Temperature | -30ºC∼+75ºC |
| System Control | Hydraulic and Electric Control |
| Remote Control Range | <40m |
| Weight | 150KG |
| Protection Class | IP68 |
| MOQ | 3set |
| Application | pedestrian sidewalks, parking lots, Airports, Shopping Centers, etc. |
| | |
| --- | --- |
| Optional Accessories for Hydraulic Bollards | Photo Sensor, Flashing Light, Bluetooth Controller, Wi-fi Mobile Access with ( Voice Command Through Google Assistant, Alexa, Siri ), RFID , Vehicle LOOP Detectors, Face Recognition, Bluetooth USB Port. |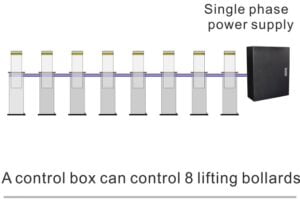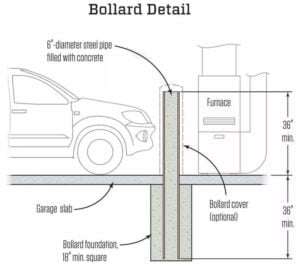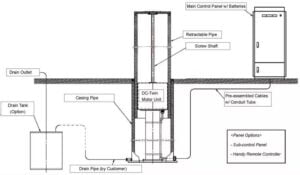 Advantages:
Automatically raise/lower/stop. The automated bollards adopt a heavy duty hydraulic power pack and operate by integrated control. Easy to install and operate. Built-in led flashing lights and reflective tap in the bollard head to ensure visibility and safety.

Variable frequency controller. Adopt variable frequency controller, the raise/lower speed 3-6s is adjustable. It can stop emergently during raising/lowering process. The control signal is electric transmission, quick and reliable.

Firm foundation plate. Thicken seamless 304 stainless steel with strong bearing capacity more than 40 tons. Rust protection and distortion resistance.

Built-in valve. In case of emergent issue for example power failure, the obstacle can be lowered by relief valve manually to make sure the passage of pedestrians and vehicles in not affected.

Adopt high quality great power motor, the bollards can raise/lower speedy, work stable and durable with 1500 cycles working frequency per day. The motor can be disassembled for easy maintenance.

Multiple security protection. Use high pressure air rifle to seal up the vent, the motor can work when soaked in water with electricity leakage protector.