Hydraulic Automatic Rising Bollards MR-AB600
| | |
| --- | --- |
| Notice | If you want to place an order, please contact the seller, we will calculate the cheapest freight for you! |
Hydraulic automatic bollard mainly consists of oil pump unit and steel frame construction. It use soil pressure as dynamic to realize the rise/fall of bollard. As a moving device, it is usually installed at vehicle entrance/exit. It rises to block the vehicle and falls the ground level to authorize free passing.
The rising bollards system is designed to bring convenience and enhancements to higher-level security. It is an ideal choice for universities, pedestrian sidewalks, parking lots, government buildings, gyms, amusement parks, airports, shopping centers, hospitals, and occasions with high traffic flow.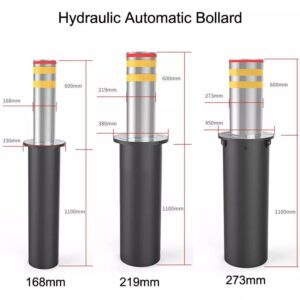 Specification:
| | |
| --- | --- |
| Brand  | MRTECH |
| Model No | MR-AB600 |
| Product Name | Hydraulic Automatic Rising Bollards |
| Material | 304 Stainless Steel |
| Power Supply | 220v/380v |
| Lamp Belt | LED lamp (Acrylic light circle) |
| Thickness | 6∼10mm Customized Thickness |
| Height | 1105mm, Customized Height |
| Rising Height | 600mm |
| Diameter | 275/220mm |
| Raising /Lowering Speed | 3∼6s (adjustable) |
| Working Temperature | -30ºC∼+75ºC |
| System Control | Hydraulic and Electric Control |
| Remote Control Range | <50m |
| Weight | 140KG |
| Protection Class | IP68 |
| MOQ | 3set |
| Application | universities, pedestrian sidewalks, parking lots, Shopping Centers, etc. |
| | |
| --- | --- |
| Optional Accessories for Automatic Rising Bollards | Photo Sensor, Flashing Light, Bluetooth Controller, Wi-fi Mobile Access with ( Voice Command Through Google Assistant, Alexa, Siri ), RFID , Vehicle LOOP Detectors, Face Recognition, Bluetooth USB Port. |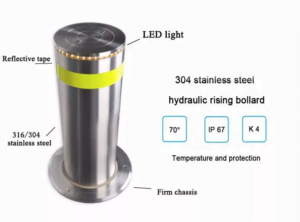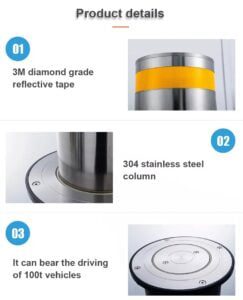 Advantages of Hydraulic Automatic Rising Bollards
We have Motor and Hydraulic pump embedded, with 220V voltage supply, it is buried at underground and has no effect on the ground surface. It has waterproof function with high efficiency.

Embedded parts on the periphery of the product, holes created at the bottom for drain function. After the trench excavating and waterproof treatment, the embedded parts can be applied.
Stable, and long using life, over 10 years of using life, much more beneficial compared with traditional electric and pneumatic bollard.
Using Steel track, which is helpful to maintain the ability of anti-crash, while increasing the weight of products itself and even stabling the embedded part at underground.
Stainless Steel Material, with enhanced hydraulic system, the product is reaching 160kg. Damage prohibited even crash happens. High satisfaction rate from customers.