Outdoor Bioclimatic Aluminium Balcony Pergola and Awning
| | |
| --- | --- |
| Notice | If you want to place an order, please get in touch with the seller, and we will calculate the cheapest freight for you! |
The drainage system in the Balcony Pergola
At 0º: Louvers are designed such that they will interlock to keep out the water, hot sun, and snow. Deep channels in each louver carry water away to the in-built surrounding gutter.
At 45º: Tilt the louvers like that, the sun is blocked and the fresh air can flush through the opening gaps.
With a 105º opening angle, you can still enjoy the sunshine when sunset.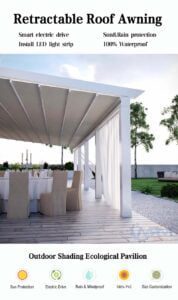 Advantages of Balcony Pergola:
Powder Coated Treatment: powder Coating allows our pergola to resist harsh environments.
Snow Loading: Our system offers greater rigidity, allowing a maximum 80cm snow loading capacity.
Strong Wind Resistant: Pre-engineering with a heavy-duty design, the overall structure can easily withstand 180-220km/h.
Rainproof System: With a gutter incorporated into the beam, our system is 100% rainproof and effective.
Dimmable Linear LED Lighting: Linear strip led lights are dimmable and the same length as a louver.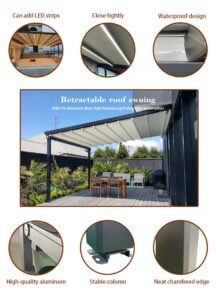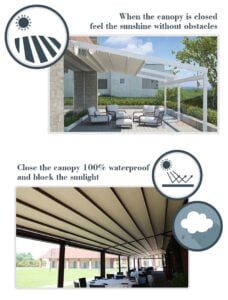 Specifications:
| | |
| --- | --- |
| Brand  | MRTECH |
| Model No | MR-MP09 |
| Product Name | Outdoor Aluminium Balcony Pergola and Awnings |
| Material | Aluminum Alloy |
| Coating | Powder Coating |
| Color Options | Customizable |
| Operation | Manual / Electric |
| Waterproof Rating | IP67 |
| Wind Resistant | Upto 210 KM/H |
| Snow Loading | 50cm |
| Angle Adjustable | 0º ∼ 90º |
| MOQ | 5set |
| Application | Residential, Commercial, Government offices, office rooms, hospitals, etc. |
| | |
| --- | --- |
| Optional Accessories for Balcony Pergola | Sun sensor, Rain Sensor, Wind sensor, Weather sensor, Photo Sensor, Bluetooth Controller, Wi-fi Mobile Access with ( Voice Command Through Google Assistant, Alexa, Siri ), etc. |