Aluminium Double Gates
| | |
| --- | --- |
| Notice | If you want to place an order, please contact the seller, and we will calculate the cheapest freight for you! |
A double design gate is made up of two gates that include hinges on both sides of the opening. The gates latch in the middle and can be held in place by a drop bolt
The main benefit of Aluminium Double Gates is the fact they're incredibly low-maintenance, particularly if it's a manual gate. Unlike other gate types, swing gates involve no motor or electronics, making them really easy to use. They can be automated if required. They're also cheaper than sliding gates.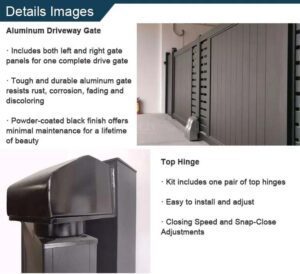 Specification:
| | |
| --- | --- |
| Brand  | MRTECH |
| Model No | MR-ASG07 |
| Product Name | Aluminium Double Gates |
| Open Style | Swing |
| Material | Aluminum |
| Size | Various types of sizes Available Customer Requesting |
| Color | White, Black, Silver, and Costumer Requesting colors are Available |
| Surface Treatment  | Hot-Dip, Galvanized, Powder Coated |
| Drawing Design | According to Your request |
| Optional  products | Manual,  Semi–Automation, Automatic. |
| Application | Residential, Industrials, Commercial, etc. |
| | |
| --- | --- |
| Optional Accessories for Aluminium Double Gates | Photo Sensor, Flashing Light, Bluetooth Controller, Wi-fi Mobile Access with ( Voice Command Through Google Assistant, Alexa, Siri ), RFID, Vehicle LOOP Detectors, Face Recognition, Bluetooth USB Port. |

What advantages do

Double Swing Gates

have?
Swing radius: A big benefit compared to a gate is the reduction in the swing radius required when opening and closing. A 10feet opening would only require a 5feet swing radius. This means less of your driveway needs to be kept clear, making parking easier.
Smaller Components: With both gates only needing to span half the opening, they can be fitted with smaller components. This also helps to reduce the overall cost.
Ease of Access: Both gates may have the capacity to be opened independently of each other, Aluminium Double Gates making it easier for pedestrians to use. Their small size also means they are generally lighter than a single gate.
Vehicle access: because each gate is lighter, there's no demand for bulky supporting posts. This means Aluminium Double Gates that less of the opening is lost, allowing for easier vehicle access.
Features of Automatic Double Gate :
In some cases, swing gates are considered the safer option. Fewer moving parts and less opportunity for little hands or fingers to be caught as they open means that this gate is often the preferred style for use at childcare facilities, parks, and other public places.

Swing gates can be opened either way, which allows easier access for pedestrians and vehicles approaching from either side.

Aluminium Double Swing Gates are generally the more budget-friendly option. fewer moving parts, less set-up required at the side of the fence, and no floor track make them cheaper to install.