Advertising Pedestrian Gate Motors MR-APG24A
| | |
| --- | --- |
| Notice | If you want to place an order, please contact the seller, we will calculate the cheapest freight for you! |
The customizable advertising pedestrian gate can be used in both high and low security situations and is often installed in conjunction with vehicle gates. It can not only manage the entrance and exit of people, ensure the security of the community, but also achieve great advertising effect through its unique advertising form. The advertising pedestrian gate motors adopts gear set deceleration, which can rotate 180 degrees forward and backward, and the left and right doors are not limited.
Mainly suited for controlling rapid response gates such as swing gates or barrier lift gates (single or double jointed)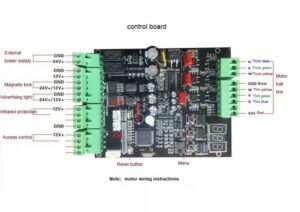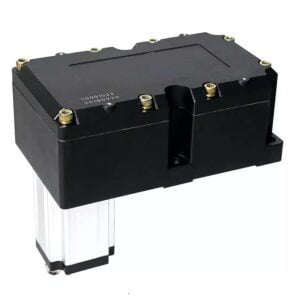 Specification:
| | |
| --- | --- |
| Brand  | MRTECH |
| Model No | MR-APG24A |
| Product Name | Advertising Pedestrian Gate Motors |
| Voltage | DC24V |
| Rated Current  | 1.5A |
| Output Power  | 30W |
| Gate Operation Time | 3-6sec |
| Temperature Range | -30ºC∼+70ºC |
| Insulation Class | F |
| Operation Lifetime | ≥5 Million Times |
| Altitude | 1000 Meter or Lower |
| MOQ | 3set |
| Application | Residential areas, Scenic spots, Commercial centers, Stations, etc. |
| | |
| --- | --- |
| Accessories Included With Pedestrian Gate Motors | Control Board, Remote Control, Manual key, Mounting Kit. |
| Optional Accessories | Photo Sensor, Flashing Light, Bluetooth Controller, Wi-fi Mobile Access with ( Voice Command Through Google Assistant, Alexa, Siri ), RFID, Vehicle LOOP Detectors, Face Recognition, Bluetooth USB Port. |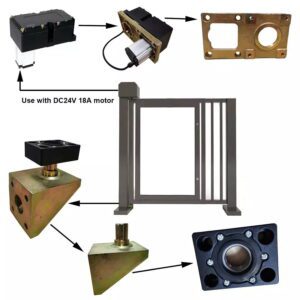 Features and Functions of Advertising Pedestrian Motors:
The main body is made of aluminum alloy, beautiful appearance, accurate size and good heat dissipation.
Easy installation and compact structure.
Adopt gear reduction transmission, high transmission deficiency, low loss of power output, carburizing treatment process, anti-wear, impact resistance, long service life.
The brush-less DC motor has larger output torque and smaller volume. It can be adjusted quickly and arbitrarily through the control board.
The movement adopts brush-less DC24V safety voltage to avoid electric shock caused by leakage.
It's easily to change the direction from left to right.