Wood Grains Rolling Shutters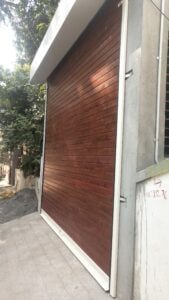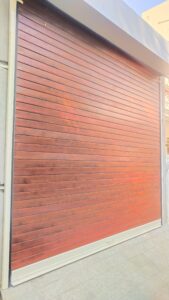 Profile Rolling Shutter Door
Wood Grains Rolling Shutters door, beautiful and practical new structure, specially designed high-strength wind-resistant door against the wind of typhoons in coastal areas, sand inland area, wind-resistant door plate use high strength color-coated steel door galvanized steel cold-rolled.
Features: 
Heat preservation, heat insulation, sound insulation, noise reduction, bad weather resistance, and corrosion resistance. It's the alternative product for domestic single-piece Wood Grains Rolling Shutters door.
Accessories
1. Strengthened double-hole track and the bottom of door plate, inside of the track, and space between door plates are set with sealing components, which can not only ensure the sealing effect of the overall door but resist the wind and sand invasion to ensure indoor environment clean. The track is widened with a width of 70mm.
2. Electric part adopts a tubular motor from Mr. Tech. The motor owns 11 international patents and guarantees 100,000 times of running without fault, which is the representative product with the highest quality level of the tubular motor.
3. Control system generally, opening, closing, and stop buttons are adopted for control. The remote control device can be equipped in accordance with the customer's requirements.
Profile Roller Shutter Door

Roller Shutters

Width 50 / 60 / 77 / 100 mm, Thickness 0.5 / 0.6 / 0.8 / 1.0 / 1.2 mm

Advanced Curtains

PU Foam for more insulated and noise reduction 

Color Options

White, grey, black, wooden grain, or custom

Guide Track

Width 80 / 90 / 100 mm, Thickness 1.0 / 1.2 / 1.5 mm

Operate System

Automatic tubular motor from Mr tech / Swing Manual

Accessories

Top cover box / Big Bracket / Remote controls / Screws

Features

Heat preservation, heat insulation, sound insulation, noise reduction, bad weather resistance, w, and corrosion resistance