With years of export experience along with excellent quality, advanced services, and competitive prices, MRM TECH has won numerous customers' trust and support.
Advantages and Why you choose us
please find the below specification of the advantage of our doors, and know if you purchase in India why you choose
us
Our Aluminium Rolling Shutter doors advantage
Aluminium Rolling Shutter
Beautiful and fashionable appearance, surface paint handling, durable resistance to sunlight, weathering,
water resistance, anticorrosion, and anti-scratch.
A variety of installation options, including the exterior, are installed with; installation of space does not request so much,
does
not take up space inside the garage.
Slight rebound in case of recovery after the collision,
such as external injury can be a single change according
to each different case.
Installation is simple, fast, and saves the construction period.
The door slats
1. the door slats are : 100type, 77type, 60type, and 50mm
2. the thickness: 0.7mm, 1.0mm, 1.2mm
3. the material: aluminum
4. the slats can be foamed
The alu. slats
Alu. slats with end cap
Alu. slats with foam
Profile features: Double roll forming of shutter profiles, filed non-hydrocarbon fluoride foam polyurethane insulation, polyurethane foam can effectively eliminate noise, enhance the profile of the bending resistance; and prevent the emergence of condensation
Profile surface and thin film multi-layer paint layer, with excellent scratch resistance, do not decay, wear, anti-knock, anti-impact. Full range of color profiles, in addition to beautiful white, there are a light gray, brown, tan, cream color, sand color, sand color, and other light colors, so customers can taste mass customization.
Aluminium Rolling Shutters of different materials and designs can prevent strong light and compact outside radiation, completely solved
the sun on the interior of the greenhouse effect applied to
a variety of changes in climate and weather, on long-term
protective effect of the indoor environment, experimental
results show that the Aluminium Rolling Shutter doors and windows on the sunblock rate up to 100% occlusion rate of the temperature up to 95%.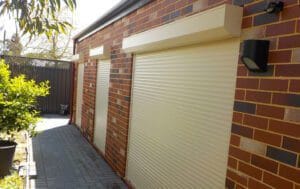 It can choose the interior, and exterior doors installed with the installation of three different ways to open the winding after the Aluminium Rolling Shutter in the upper door to save space inside the garage, and will not put dirt, rain, snow, and other debris into the garage, beautiful and stylish appearance. according to the different characteristics of the building.
Encounter obstacles to human design automatically rebound to prevent the door when the car is running the whereabouts of the collision object, people or vehicles pass.
Solid door and equipped with automatic warning devices and anti-pushed device, prevent coercion lever door, continuous alarm, security alarm
The door hardware
The alu. roller shutter door hardware: door motors, door tracks, doors tube, door brackets, door screws, etc.
tubular motor
side motor
aluminum side track with seal