Tubular Motorized Remote Control Blinds
| | |
| --- | --- |
| Notice | If you want to place an order, please get in touch with the seller, and we will calculate the cheapest freight for you! |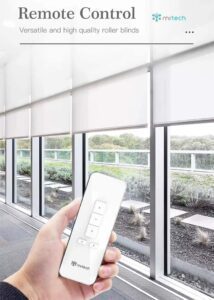 To put it simply, motorized blinds are pretty much just electric blinds. so, they're like your standard blinds, but they're not restricted to being controlled manually. You are able to create actions through the use of a remote control or a timer.
Voice control: Support voice control via Alexa / Google Home / Siri via
Tuya control: plug the converter into the power supply, the indicator light of the converter will light up in blue for about 2 minutes, and when it slowly flashes blue, the converter will start up and enter the network configuration.
Timer control: support timer schedule set up to 30 times repeat daily or weekly. State of Setting – Up limit setting, Intermediate travel point setting, Down limit setting.
The intermediate stroke point setting must be completed within 1 minute after the total stroke setting is completed, and the motor does not have any operation. If the motor has other operations during this period, the intermediate stroke point setting should be completed within 1 minute.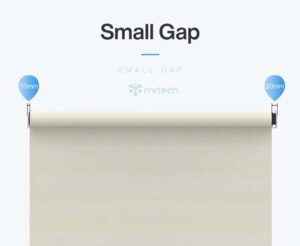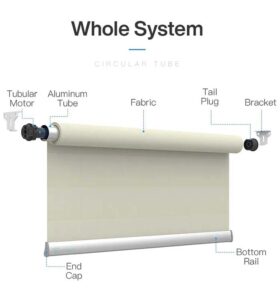 Specifications:
| | |
| --- | --- |
| Brand  | MRTECH |
| Model No | MR-RBTM05 |
| Product Name | Tubular Motorized Remote Control Blinds |
| Applicable For | Roller Blinds |
| Motor Type | Tubular Motor |
| Operating Voltage | AC-240V |
| Rated Torque | 1 Nm |
| Rated Speed | 25 RPM |
| Rated Power | 6.7 W |
| Rated Current | 900 MA |
| Width | 0.53M ∼ 3 M |
| Height | 1M ∼ 6 M |
| MOQ | 5set |
| Application | Residential, Commercial, Government offices, office rooms, hospitals, etc. |
| | |
| --- | --- |
| Accessories Included with Motor | Shaft Adapter, Cheek plate, U cup or Bearing, Limit Switches, Control Unit. |
| Optional Accessories | Sun sensor, Rain Sensor, Wind sensor, Weather sensor, Photo Sensor, Bluetooth Controller, Wi-fi Mobile Access with ( Voice Command Through Google Assistant, Alexa, Siri ), etc. |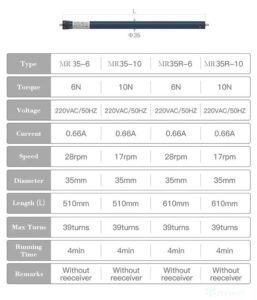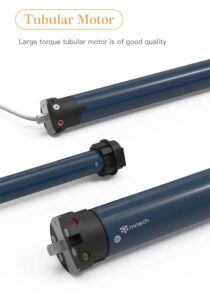 How window blinds can be automized?
Almost any window blinds in your house can be motorized. Tubular Motorized Remote Control Blinds with just a click of a button, you can control any shade, anywhere in the house. There are some obvious reasons why this is a good idea.
Effortlessness and safe.
Hard to reach windows.
Conveniently manage glare
Reduced energy costs
Increased security
The speed you can choose is a wall switch or remote controller to reach single control or group controls.