High Quality Fire Resisting Rolling Shutter 2500KG Motor
| | |
| --- | --- |
| Notice |  If you want to place an order, please contact the seller, and we will calculate the cheapest freight for you! |
These fire-rated rolling shutters are designed to stay open under normal circumstances and close automatically in the event of a fire are structured and constructed to prevent the spread of fire to adjoining areas. Available Stocks of Rolling Shutter Door Motor: 300KG-1p, 400KG-1p, 500KG-1p, 600KG-1p, 800KG-1p, 1000KG-1p, and 1500KG-1p, 2500KG-3p.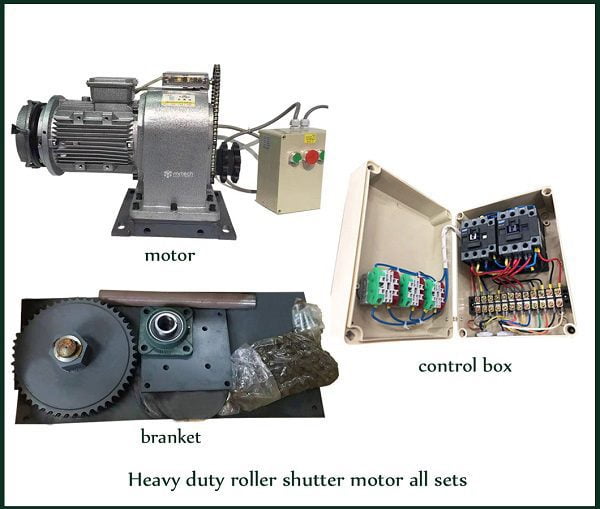 Benefits of High Quality Fire Resisting Rolling Shutter 2500KG Motor:
Widely in extra large roller shutter doors.

Stylish design, up-to-date Technology.

Overheat protection and overload protection.

Easy manual operation when power failure

Precise/accurate Limit switch.
Specification:
| | |
| --- | --- |
| Brand | MRTECH |
| Model No | MR RSMAC25003P |
| Product Name | High Quality Fire Resisting Rolling Shutter 2500KG Motor |
| Motor Type | Side Rolling Shutter Motor |
| Material | Aluminum Alloy |
| Phase | Three Phase |
| Rated Voltage | 380V 50 HZ |
| Rated power | 1400 W |
| Max Lifting Force | 2500 Kg.f |
| Output Torque | 3000 N.m |
| Output Speed | 3.4 r/min |
| Rated Current | 4 A |
| Max Elevating distance | 12 m |
| Diameter of Roller | 266mm |
| Constant working Time | 20 min |
| Type of Chain | 16A |
| Ambient Temperature Range | -20ºC ∼ +50ºC |
| MOQ | 3 Set |
| Usage | Garage Shutter Door |
| Package Included | Motor, Control Board, Radiofrequency receiver, Remotes |
| Application | Houses, Icecream Stores, Retail Stores, Banks, Industries,   etc. |
| | |
| --- | --- |
| Optional Accessories | Bluetooth controller, Wi-Fi mobile access Controller, RFID with Detector, Fingerprint, Vehicle LOOP Detectors, Face Recognition, Photocell sensor, Electrical  Side lock and center Lock, Bluetooth USB Controller, Safety edge, and Safety Break system. |