Wall Mount Type Shutter Gear Motor Operator
Owing to the presence of our expert team members, we have been able to offer a wide range of Rolling shutter Gear motor. These are available with us in various technical specifications and range as per the precise demands and requirements of clients.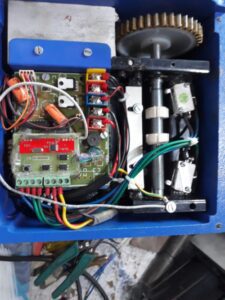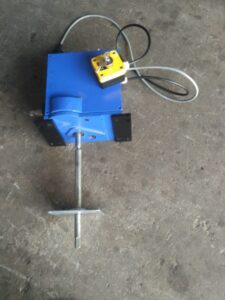 Gear Operator
Geared motors are the next step in mechanical development. They are made up of a gearbox that is directly attached to the motor. This eliminates the need for a motor adapter and coupling since the motor pinion meshes directly with the high-speed gear in the gearbox. Eliminating these additional components results in a lighter, more compact solution, as well as fewer wear components, resulting in less maintenance for you your team.
A geared motor has several other advantages. Let's go through the top seven benefits of using a geared motor.
Features of Rolling Shutter Gear Motor:
Overworking for a short time.
Built-in Control panel.
Overheat Protection.
Limit Switch Unit enables precise adjustment of door in UP and Down positions.
Electric and manual operations.
Both sides have a manual operation in case of power Failure.
Key type and Push button extension possible.
Smooth Noiseless Function.
Safety Protection Sensor
Which Motor is More Powerful AC or DC?
Wall Mount Type Shutter Gear Motor Operators are generally considered to be more powerful than DC motors because they can generate higher torque by using a more powerful current. However, DC shutter motors are typically more efficient and make better use of their input energy.
Specifications:
| | |
| --- | --- |
| ITEM  | DESCRIPTION |
| Brand Name | MRTECH |
| Model Number | Gear Motor MR-RSGM300 |
| Type | Automatic Operator |
| Name | Gear Motor |
| Usage | Garage, Shutter |
| Material | Mild Steel |
| Mounting Type | Wall Mounted |
| Voltage | 220V |
| Frequency | 50Hz |
| Continued Working Time | 10Mins |
| Max. Lifting Height | 10-15Feet |
| Winding | Copper |
| Gear Drive Type | Helical Spur Gears |
| Shutter Size | 16Feet x 16Feet |
| Weight Capacity | 300Kg |
| MOQ | 3 Set |
| Application | Residential, Commercials, Industrials |
| | |
| --- | --- |
| Optional Accessories | Bluetooth Controller, Wi-fi Mobile Access with ( Voice Command Through Google Assistant, Alexa, Siri ), RFID, Fingerprint, Vehicle LOOP Detectors, Face Recognition, Lock box with key. |
Automatic Rolling Shutters:
Electrical Type Rolling Shutters are operated by using a range of electrical actuators capable of operating shutters of all sizes. They are made up of self-braking worm gear with hollow shafts, integrated limit switches, and integrated safety brakes with overload protection. Operationally, Rolling Shutter Gear Motors are relatively easy, hassle-free, and extremely safe and operate by integrating the control accessories like push-button, key selector, or remote controls. During downtime, the option for manual operation is also available