Stainless Steel Laser Cutting Gate with HPL Sheet
| | |
| --- | --- |
| Notice | If you want to place an order, please get in touch with the seller, and we will calculate the cheapest freight for you! |
Stainless Steel Laser Cutting Gate with HPL Sheet are used Widely for long last life. Stainless Steel materials are rust-free and need little Maintenance  for better gate life
The gate is the physical object that is moved to block the gate opening. Most gates used in commercial applications are made of either ornamental iron or chain-link material and are usually designed to match the fencing adjacent to where the gate is installed
what is the Maximum thickness that a 4000-watt laser can cut?
When it comes to laser cutting thick steel, the limits are primarily manifested in factors such as the materials that can be cut, the power of the lasers, and as a result, the maximum thickness of metal that the lasers can handle.
Laser with 6000 watts are excellent for cutting through particularly thick or strong metals, but in many cases, lower wattages are more than adequate.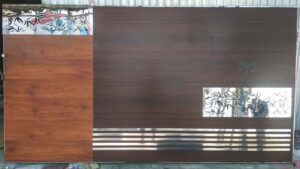 Specification:
| | |
| --- | --- |
| Brand  | MRTECH |
| Model No | MR-SSLCG50 |
| Product Name | Stainless Steel Laser Cutting Gate with HPL Sheet |
| Open Style | Sliding Type, Swing Type, folding type, Bi-folding, Turning Sectional Sliding Gate |
| Material | Stainless Steel with HPL Sheet |
| Size | Various types of sizes Available Customer Requesting |
| Color | Silver |
| Surface Treatment  | Hot-Dip, Galvanized, Powder Coated |
| Drawing Design | According to Your request |
| Optional  products | Manual,  Semi-Automation, Automatic. |
| Application | Residential, Industrials, Commercial, etc. |
| | |
| --- | --- |
| Optional Accessories  | Photo Sensor, Flashing Light, Bluetooth Controller, Wi-fi Mobile Access with ( Voice Command Through Google Assistant, Alexa, Siri ), RFID, Vehicle LOOP Detectors, Face Recognition, Bluetooth USB Port. |
Laser-cut design gates With HPL sheets are very reliable and have long trouble-free lifespans. MS & SS gates with HPL sheet Occupy less Space as compared to swing gates. Its Strength Is Better than normal wood. A lot Of patterns Available In the HPL Sheets are Mostly Used for Cost Efficient And Rich Look Finish. It maximizes space on the drive because the gate opens sideways rather than inwards. Preference for industrial, Commercial, and residential applications.