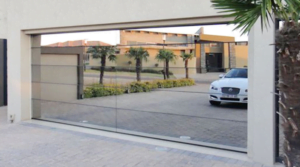 Aluminum Sectional Mirror Glass Garage Door
A. Modern and elegant anodized aluminum frame, with different glass panels:
B. Panel profile thickness:50mm/40mm
C. Color of the frame for option: aluminum natural, black, white, silver, grey, brown, and wood imitation.
D. Glass for option:
polycarbonate thickness between 3mm to 4mm, single or dual pane is available
tempered glass: 4mm, single or insulated are available
laminated glass
mirror glass
E. UV proof
F. impact-resistant and burglar-retardant
resistance to wind load: Class 3
Water-tightness: Class 3
air permeability: Class 2
G. more options are available: a combination of materials in  polyurethane and polycarbonate with the anodized aluminum frame, highly robust and durable hardware
H. Aluminum Sectional Mirror Glass Garage Door in All the sections can be replaced easily
I. 200 times harder than normal glass, the door resists the impact of external force and will not easily be damaged, even under a harsh environment the door will not easily become deformed owing to corrosion
J. an effect of day-lighting, firm and smooth and could be used for a long time without maintenance
K. It is applicable to various modern, simple and fashionable architectural styles, such as commercial shops, chain stores, etc.
L. lift way: standard overhead, high lift, vertical lift
M. safer hardware and more functions: