High Quality Bracket Plate For Rolling Shutter Motor
What are roller shutters?
Well, Roller shutters are simply where the door leaves roll up above the doorway. The principle of rolling up is used in all kinds of other modifications such as roller shutters. Roller shutters for shop windows, shutter garage doors, high-speed roller shutters, and more, see our roller shutters page and gallery.
Specification:
| | |
| --- | --- |
| Brand | MRTECH |
| Model No | MR SCB1500 |
| Product Name | Bracket Plate for Rolling Shutter Motor |
| Suitable For | Side Rolling Shutter Motor |
| Material | Steel |
| Package Includes | Sprocket Bracket (Main), Transmission Plate, Supporting plate, Shaft, Side Bracket, Bearing Shaft, Bearing, Chain, Chain Wheel. |
| Usage | Rolling Shutter/ Rolling Doors up to 1500 KG Motor |
| Application | Residential, Industrial, Commercials, Warehouses, Hospitals, Malls, etc. |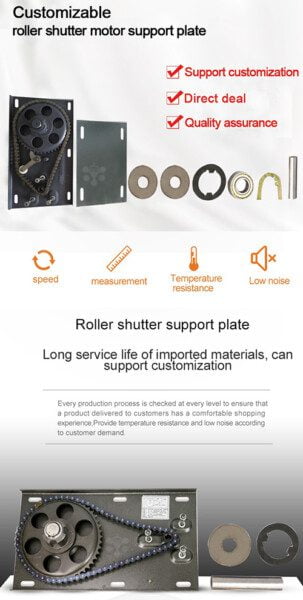 Manual roller shutters have to be opened and closed by hand. This can be cumbersome and tiring. Additionally, they can be quite time-consuming which can be an irritation if you are in a hurry. People with limited mobility or many manual shutters might struggle with these operating issues.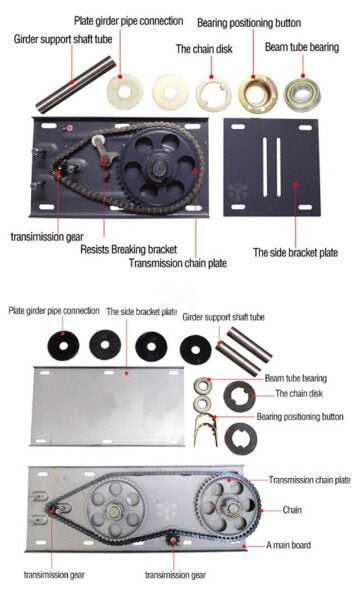 | | |
| --- | --- |
| Notice |  If you want to place an order, please contact the seller, and we will calculate the cheapest freight for you! |